'A 'Day of Days' With DAYS Cast Part 1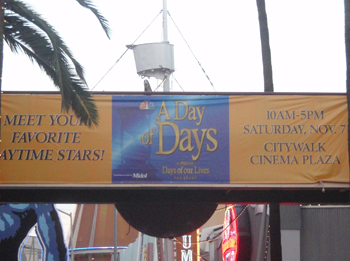 Interviews from the "Day of Days" event with the younger set.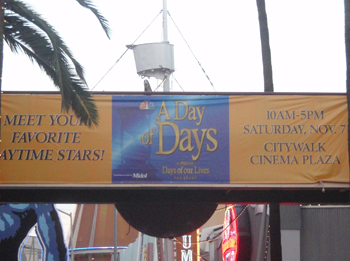 On Saturday, November 7, 2009 TVSource Magazine was invited to interview the stars of Days of our Lives during the second annual Day of Days fan event put on by NBC Universal. The event took place at Universal Studios Hollywood famous City Walk.
We had the pleasure of attending the event last year and were excited to interview the stars this year. We were seated inside of the beautiful Samba Lounge and were lucky enough to be paired up with the amazing people behind seriouslyomg.com and Jessica Lee from examiner.com.
The event was attended by thousands of fans from across the world and included meet and greets with the stars, a talk show with the entire cast, a preview of an upcoming episode, an exclusive swag bag, and a world premier trailer of what to expect for the month of November on Days.
We would like to thank the people at NBC Universal, Days of our Lives, Universal Studios, Samba Lounge, and everyone else who had a hand in putting on this free event for the fans.
Part 1 consists of a collection of interviews with Shelley Hennig (Stephanie) & Mark Hapka (Nathan), Jay Kenneth Johnson (Philip) & Casey Deidrick (Chad), and Dylan Patton (Will) & Taylor Spreitler (Mia)
–
TVSource Magazine "DAY OF DAYS" COVERAGE
Follow TV Source on Twitter at @TVSource | Follow William Dallman on Twitter at @sourcewilliam
---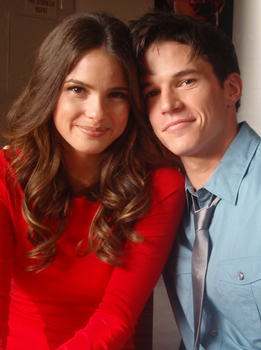 There are two things I noticed when interviewing Shelley Hennig (Stephanie) and Mark Hapka (Nathan). First, television doesn't do them justice. If you think they're attractive on TV, just wait until you see them in person. Second – these young actors are very proud to work in the daytime genre.
"It becomes a part of you," said Hennig with a smile when talking about the fast pace of daytime. "I have a friend who's an actress. She had an audition for a soap and asked me how many pages I do in a day. I told her I can do 10 to 20." Her friend thought she was joking, but Hennig was war from kidding.
"This is the rawest form of television there is," Hapka explained. He went on to explain what else goes into filming the scenes besides just learning the lines. "On top of that, there are three cameras. We need to be in a certain place at a certain time to have the camera follow us and on top of that you have to look and make sure you're not casting a shadow [on the person you're taping with]."
When asked about playing the hero or the villain, both actors expressed their desire for the characters to venture into some dark territory. "I think Stephanie is starting to unravel. She has all these morals. You know, she's a good person but at this point she's been heartbroken so many times that I think her impulse is to be rude and negative — things are starting to take over her nice girl standpoint," explains Hennig.
Hapka certainly seemed excited at the possibility. "I would love it. Give me something crazy!" Hapka exclaimed when asked if he would like Nathan to move into a more gray area. The actor added, "If you push a good guy enough you never know what's going to happen."
To read the interview with Shelley and Mark from the set of "Days of Our Lives" click here.
---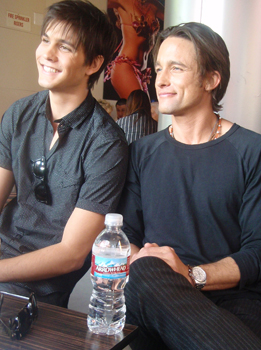 "I worked 23 hours one day," Jay Kenneth Johnson explained to Casey Deidrick when talking about the differences between working on Days in the past, and how the cast finishes between 4pm-6pm now. Deidrick asked Johnson if they got paid extra for that, Johnson smiled and nodes his head. "Golden time or something like that," he said.
The two actors have shared few scenes together on-screen but have a noticeably good rapport in real life. The two chatted about "jamming" together sometime soon. Johnson is a singer and Deidrick performs in the metal band known as A Dreadful Fall.
Johnson's character Philip seems to be bouncing back and forth between Molly Burnett's Melanie and Shelley Hennig's Stephanie right now, but he also has a slew of other options across the canvas. So who would the actor like to see playboy Philip end up with? "I don't really care to be honest. As long as the story is good."
Johnson expressed how happy he was to be working with so many people on the cast. "I love working with John Aniston (Victor), he's got a joke for you every day." The actor also had high praise for his other co-stars as well. "Louise Sorel, Lauren Koslow, Joe Moscolo — they keep me on my toes every day." Jay also teased a storyline with Louise Sorel's character. Fans will remember that Sorel's Vivian was Victor & Kate's surrogate and had the longest pregnancy Days has ever seen – 13 months – before giving birth to Philip Kiriakis.
On his triumphant return to Days, Johnson says, "Ken Corday had called… Kyle left the show. I think after his fifth phone call I said 'Ok, I'll come in and talk to you.' We sat down and he told me what he had in mind and it was a good story so I came back."
On the personal front, Johnson said he doesn't Twitter like his co-stars because he's a little behind on the times. "I got a computer and a cell phone like five years ago," he confessed laughing.
When I asked Casey about his real life relationship with Molly Burnett, Deidrick proudly said he couldn't be happier. "We're very happy too," Jay said joking about his relationship with Deidrick.
PREVIOUS INTERVIEWS WITH CASEY DEIDRICK:
At The "DAYS" Set with Taylor Spreitler & Casey Deidrick
Interview with Casey Deidrick & Molly Burnett at Taylor Spreitler's Sweet 16 Bash
---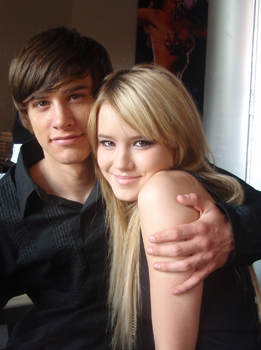 Dylan Patton joined the cast of Days of Our Lives as Will Horton in February 2009. This is the 17 year old actor's first foray into daytime. Playing the son of Sami Brady (Alison Sweeney) and Lucas Horton (Bryan Datillo) might seem like a big challenge but the young actor handles it well.
"My mom is a drama starter, the queen of it. My dad starts drama unintentionally," explained Patton in character when talking about his on-screen parents.
Patton expressed his how the two Days vets can relate to he and co-star, Taylor Spreitler.  "I've gone back and watched all scenes from when they first started. They were young, so they know what it's like for us."
[Editor's Note: We've interviewed Taylor Spreitler earlier this summer, at her sweet 16 birthday bash and on the set of Days of Our Lives.]
Given that I spoke with Taylor the day before, there wasn't much else for us to talk about. She did however share a story about Alison Sweeney. The actress explained that Sweeney, who was far along in her real life pregnancy at the time, helped her with portraying a pregnant woman by visiting Spreitler one day in her dressing room. "She was squatting down and showing me how it looks when you're giving birth and the way you scream. She had to explain to me how it feels. She helped me out a lot, and that was the first time I had met Ali."
EARLIER INTERVIEWS WITH TAYLOR SPREITLER:
At The "DAYS" Set with Taylor Spreitler & Casey Deidrick
Interview with Taylor at her Sweet 16 Bash
One-on-One With Taylor Spreitler