'A 'Day of Days' With DAYS Cast Part 2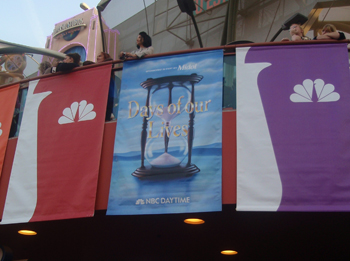 Interviews from the "Day of Days" event with the soap vets James Reynolds, Renee Jones, Louise Sorel and more!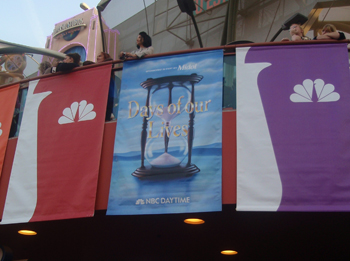 On Saturday, November 7, 2009 TVSource Magazine was invited to interview the stars of Days of our Lives during the second annual Day of Days fan event put on by NBC Universal. The event took place at Universal Studios Hollywood famous City Walk.
We had the pleasure of attending the event last year and were excited to interview the stars this year. We were seated inside of the beautiful Samba Lounge and were lucky enough to be paired up with the amazing people behind seriouslyomg.com and Jessica Lee from examiner.com.
The event was attended by thousands of fans from across the world and included meet and greets with the stars, a talk show with the entire cast, a preview of an upcoming episode, an exclusive swag bag, and a world premier trailer of what to expect for the month of November on Days.
We would like to thank the people at NBC Universal, Days of our Lives, Universal Studios, Samba Lounge, and everyone else who had a hand in putting on this free event for the fans.
Part 2 consists of a collection of interviews with Louise Sorel (Vivian) & Peggy McCay (Caroline), James Reynolds (Abe) and Renee Jones (Lexie), and Bryan Dattilo (Lucas) & Lauren Koslow
–
TVSource Magazine "DAY OF DAYS" COVERAGE
Follow TV Source on Twitter at @TVSource | Follow William Dallman on Twitter at @sourcewilliam
---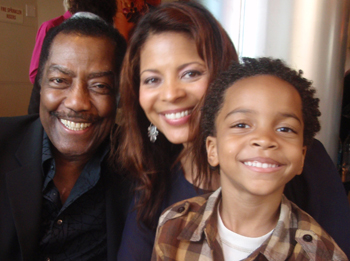 As I saw Renee Jones (Lexie), James Reynolds (Abe) and Terrell Ransom (Theo) approaching my table, I noticed the actors were wearing matching blue puzzle pieces. Curious, I asked what the pieces meant. "They represent Autism Speaks, an origination that has helped us out," Jones explained. An interesting note is that anytime Terrell Ransom tapes, they have a person on set to help direct him.
"We are so comfortable with each other," said Jones of her onscreen chemistry and relationship with Reynolds.
"Abe and Lexie as an African-American couple have been able to get older and allowed to grow. It doesn't happen that way. There is a cut off point, ya know? Except for one other actor on one other show," Reynolds said, thankful for the time he has had on Days.
Switching gears to favorite storylines, Reynolds says his was the Salem Strangler. An indecisive Jones couldn't choose between when Lexie found out Stefano was her father and the baby swap with J.T. and Zach. Both were excellent choices.
We are also curious to know if Jones thought Lexie would be able to relate to Nicole when the truth about the baby switch comes out, seeing as how Lexie was involved in a baby switch of her own. Jones gives quite an interesting answer. "I hope that she will. I had a scene a couple of weeks ago where Chad, 'Don't trust Nicole.' So wherever they take it, I'm going to try and play it that I am sympathetic to Nicole."
Both stars expressed their love of working with co-star Alison Sweeney. "I love working with her so much. I loved us hating each other… I liked when Sami was in the bathroom and Lexie came in and sprayed champagne all over her," Jones laughs.
"Abe has been in many ways a father figure [to Sami], but there was difficulty there because of Lexie's relationship. He walked the line quite frequently," noted Reynolds.
---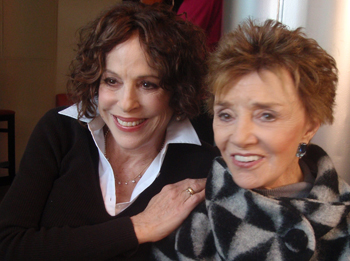 "I don't know what I see in the future. It's very difficult," said soap vet Peggy McCay when asked about the future of soap operas. When we started talking about some of her favorite storylines, she said her favorite was her first arc — the secret of Bo's parentage.
The conversation soon turned to Victor Kiriakis, a man that both Caroline and Vivian have in common. "I think Caroline has some fight in her," McCay said strongly the possibility of sharing Victor with Vivian.
Did Louise Sorel ever think a return to Days of Our Lives would happen? "No, no. I mean ten years went by why would I?" exclaimed the actress. "[Executive Producer] Gary Tomlin called me," Sorel said. The veteran actress said that Tomlin told her Crystal Chappell (Carly) was coming back, something she already knew because of her real life friendship with Chappell. Tomlin told her they were thinking about Vivian. "Three weeks went by and I didn't hear anything. Then my agent called me. It was hard because I [was living] in New York, but I love the character," she says.
Sorel loved the infamous buried alive storyline she did with Crystal Chappell. "It had more of an impact than I thought. We committed to it," she said.
When Sorel spoke of working with the late James E. Reilly on Passions, "I worked mostly against him," she said. "I couldn't believe what I was doing [on the show]." Sorel played Dot on Passions, a character who befriend Kay Bennett (Heidi Mueller) when she was working at the town fish cannery. Sorel was relegated to cutting fish heads, an act she has in common with Lauren Koslow's Kate, who's character on Days also pulled fish head duty back in the Reilly era.
---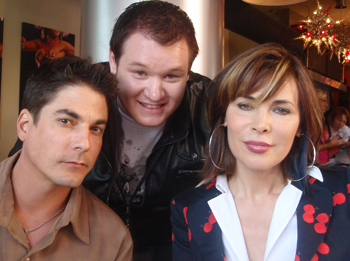 Who would Days hunk Bryan Dattilo want his character Lucas Horton, paired with next? "Stephanie Johnson! I am in the dark. I don't know much. I know [Lucas] is back now, but I'm not on the show. I'm in the house [living with Nathan]," Dattilo says of his character being off screen.
"I'd like to see him have an operation where he has his balls re-attached," quipped Dattilo, expressing his hopes for Lucas' future.
As far as Kate goes, "I would like to see a transition. I would like to see the result of what has happened. I'd like to grow," says Koslow about what she would like to see for her character. 
Koslow previewed a little about her upcoming storyline. She said Kate will be very disturbed with Vivian living with Philip at the Kiriakis mansion. It'll really hit Kate hard because of how close she was to Philip, who currently isn't speaking to her. Then there's always that long-standing rivalry between the two divas of Salem.
On his favorite storyline, Dattilo cites Sami's turn on death row and of course, the storyline with the Will doll.
"Oh, I forgot all about the Will doll!" laughed Koslow.