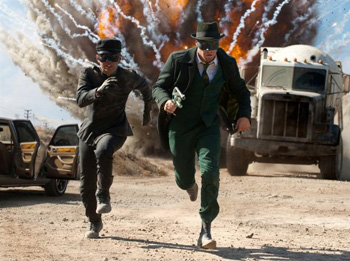 The Green Hornet lit up the box office this weekend, soaring to number one and earning $34 million in three days.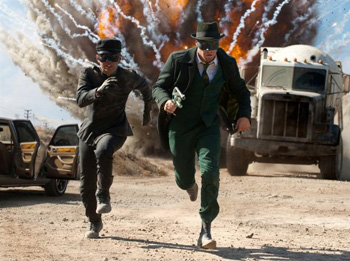 "Green Hornet" Takes The Top Spot
"The Green Hornet" lit up the box office this weekend, soaring to number one and earning $34 million in three days.  The film scored the highest grossing opening ever for a live-action superhero comedy, passing  "Kick-Ass" $19.8 million.  The film was also slightly higher than previous MLK launches, last year's "The Book Of Eli" ($32.8 million) and 2009's "Paul Blart: Mall Cop" (31.8 million).    The film also was Seth Rogen's highest opening, since 2008's "Pineapple Express."
Universal's, "The Dilemma," entered at #2 earning at $17.4 million.  The comedy-drama starring Vince Vaughn and Kevin James, was seen on 3,500 screens and is considered a low opening with it's two stars.  Vince Vaughn's "Couples Retreat" and "Four Christmases" nearly doubled that on their first weekends, while Kevin James was last seen in "Grown Ups." Universal researched that 60 percent of "The Dilemma's" audience was female. The film, about a man who discovers his best friends wife is cheating on him and whether he should tell the truth, is the 20th film to be directed by Ron Howard.
Last week's top film, "True Grit," slid to #3, earning $11.2 million, pulling it's total earnings to $126.4 million in 26 days.  "The King's Speech" entered the top 5 at #4, earning a total of $9.1 million and rose 41 percent in it's nationwide release.  The film has made an impressive $44.6 million in 52 days.  Rounding out the top 5 is Fox Search Light's, "Black Swan," pulling in $8.12 million and earning a total of $73 million in 45 days.
Last weekend's "Season Of The Witch" dropped 58 percent and fell from third place to tenth, earning $4.5 million for a total of $18 million, while "Country Strong" dropped 50 percent to an estimated $3.7 million and earning just $13.3 million.
USA Weekend Box-Office Summary
week of 14 January 2011
The Weekend Box Office Results From January, 15th, 1988
1 (re-entry) Good Morning Vietnam Comedy $12,853,843 26
2 (1) 3 Men and a Baby Comedy $105,141,109 54
3 (re-entry) Moonstruck Romantic Comedy $6,400,879 33
4 (new) For Keeps? Drama $4,839,790   
5 (new) Return of the Living Dead Part II Horror $3,647,254
---
Follow TVSource Magazine on Twitter at @TVSource | Facebook Fan Page
Tell us how can we improve this post?