SmackDown ReBound: April 27, 2012 Edition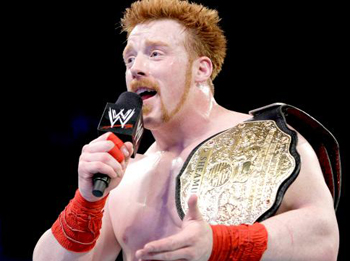 WWE Extreme Rules is this weekend and SmackDown this week was the "go home" show leading into the PPV. The entire show seemed to center around the PPV's SmackDown Main Event of Sheamus vs. Daniel Bryan for the World Heavyweight Championship. This Sunday, Sheamus and Bryan will face off in a 2 out of 3 falls match in which Bryan is trying to rectify his 18 second loss at WrestleMania.
Note: All columns analyzing the television products put on by WWE and TNA are done from an entertainment standpoint. While "insider" terms such as "face" and "heel" may be used, commentary stated is focused on the storytelling and characters – just like any other TV show we'd critique.
We opened the show with Daniel Bryan making his way to the ring for a promo.  Bryan stated that Sheamus' win at WrestleMania was a fluke and that the loss shouldn't even be on his record.  He says that since the loss is all on AJ, that the loss should be on her record.  Bryan recalls last weeks' SmackDown, where he was the special referee for the Sheamus V/S Mark Henry match and that despite his feelings toward Sheamus, he was able to put them aside and call the match right down the middle. Bryan then goes on to show the footage of the ending of the match with the 3 count "slowed down" to appear to be legit. Bryan asks the crowd a series of questions; "Did Sheamus lose to Mark Henry?" YES! "Did he make Sheamus tap out in front of the entire WWE Universe?" YES!  "Will Daniel Bryan regain the World Heavyweight Championship at Extreme Rules?" YES!
Later in the show, after Sheamus had defeated Mark Henry fair and square, Daniel Bryan appeared at the top of the stage.  Sheamus gets on the mic and invites Bryan to come down to the ring, unless he is afraid he will get his head kicked off again in 18 seconds.  The crowd begins to chant "18 seconds". Sheamus says that at Extreme Rules, Bryan can't blame AJ and that it won't be a fluke because "Will he kick Bryan's arse and remain the World Heavyweight Champion?" YES! YES! YES!
All in all, I believe that this wasn't a very good "go home" show and at some points was even down right boring. The "go home" show is supposed to make you want to order the PPV and get you interested in every single match that is on the PPV card.  They spent the entire show on the one feud and threw some matches in here and there. Did this show make me want to order the PPV?  No, not at all.  The only match that I think anyone is sold on for the PPV is Cena/Lesnar and the only mention of that match-up was the airing of the Lesnar interview for the umpteenth time.
That being said, SmackDown is doing a very good job of pushing new talent as of late.  With the recent addition of RyBack and now Antonio Cesaro. Cesaro has an Indy background, so it will be interesting to see if WWE plays off of this like they did for Punk and Bryan. SmackDown is usually my favorite WWE show of the week, but this week was just meh. Hopefully with the PPV this weekend and heading into next week, SmackDown can find it's mojo once more and get interesting.  Maybe they are going to have to rely more on newer talent than those that are already established.  But, what do I know? I am only a fan.
QUICK RESULTS:
Big Show defeated Alberto Del Rio via DQ with the interference of Cody Rhodes.
Brie Bella defeated Alicia Fox via the X-Factor after the use of some twin magic; Nikki was the legal Bella in the match.
Darren Young and Titus O'Neil defeated Yoshi Tatsu and Ezekiel Jackson via a clothesline and power bomb combination.
Antonio Cesaro defeated Tyson Kidd via a reverse tombstone piledriver.
Great Khali defeated Cody Rhodes via the choke slam.
RyBack defeated Jacob Kaye via the muscle buster.
Sheamus defeated Mark Henry via the Brogue Kick.