'Dancing With the Stars All-Stars' Cast Announced: Drew Lachey, Apolo Ohno, Kelly Monaco, and more!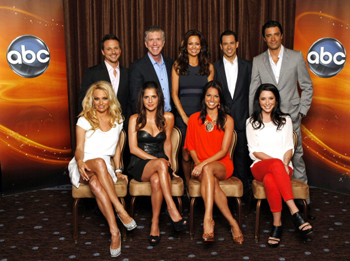 There's still two months until the upcoming season of Dancing With the Stars, but the competition is already heating up! ABC announced the cast for its all-star season today, choosing some of the biggest winners and previous finalists the competition show has ever seen. The only competitor to not have made it to the finals is Pamela Anderson. The contestants have yet to be assigned their professional partners, several of whom have multiple former partners competiting. That announcement will come later in August.
Meanwhile, three previous contestants have not been chosen, but are still eligible for participation. Viewer votes will determine whether Kyle Massey, Sabrina Bryan, and Carson Kressley make it to the competition.
Premiering September 24, the cast is as follows:
The All-Stars
Kelly Monaco (season one winner)
Drew Lachey (season two winner)
Emmitt Smith (season three winner)
Apolo Anton Ohno (season four winner)
Hélio Castroneves (season five winner)
Shawn Johnson (season eight winner)
Bristol Palin (season eleven second runner-up)
Kirstie Alley (season twelve runner-up)
Gilles Marini (season eight runner-up)
Melissa Rycroft (season eight second runner-up)
Joey Fatone (season four runner-up)
Pamela Anderson (season ten, eliminated week seven)
The Wildcards
Carson Kressley (season thirteen, eliminated week five)
Kyle Massey (season eleven, runner-up)
Sabrina Bryan (season five, eliminated week six)