28th Annual Television Critics Association Award Winners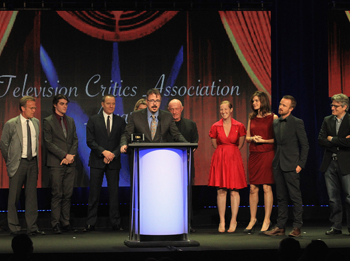 On Saturday, the Television Critics Association (TCA) held its 28th Annual TCA Awards presentation at the Beverly Hilton Hotel for the 2011-2012 television season. The organization, made up of over 200 professional TV critics and journalists from the United States and Canada, bestowed awards in 12 categories to recipients in comedy, drama, reality, miniseries, news and youth programming in conjunction with TCA's summer press tour. Bryan Cranston, star of AMCs hit drama, Breaking Bad, hosted the event, which was not televised. 
HBO's Game of Thrones took top honors for Program of the Year and Showtime's Homeland earned a win for Outstanding New Program. In addition to honoring current programming, the TCA gave its Heritage Award to NBC's classic sitcom, Cheers for the cultural and social impact the program has had on society.
The following is a complete list of the 2012 TCA Award recipients:
Individual Achievement in Drama: Claire Danes, Homeland (Showtime)
Individual Achievement in Comedy: Louis C.K., Louie (FX)
Outstanding Achievement in News and Information: 60 Minutes (CBS)
Outstanding Achievement in Reality Programming: So You Think You Can Dance (Fox)
Outstanding Achievement in Youth Programming: Switched at Birth (ABC Family)
Outstanding New Program: Homeland (Showtime)
Outstanding Achievement in Movies, Miniseries and Specials: Masterpiece: Downton Abbey (PBS)
Outstanding Achievement in Drama: Breaking Bad (AMC)
Outstanding Achievement in Comedy: Louie (FX)
Career Achievement Award: David Letterman
Heritage Award: Cheers
Program of the Year: Game of Thrones (HBO)