'Emily Owens, M.D.' Preview: Doctors battle the Perfect Storm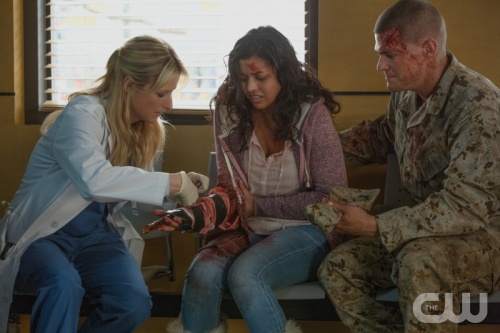 Last week Emily (Mamie Gummer) made the decision to take charge of her personal life on Emily Owens, M.D. This week Emily is tasked with taking charge when a crisis hits Denver Memorial in "Emily and the Perfect Storm."
A winter storm has hit and the victims of a bus crash are being brought into the hospital. Since they are understaffed due to the storm, the chief insists on an 'all hands on deck' mentality and tells everyone to do what they can to help. Emily is asked to run triage in the ER and forced to do an emergency skull procedure on an injured Marine.
Tyra (Kelly McCreary) is working side by side with her father during surgery and she's not happy with the way he talks to her like a child instead of a doctor. Cassandra (Aja Naomi King) is questioning Will's (Justin Hartley) feelings for Emily and Micah (Michael Rady) comes to a decision in his personal life.
Emily Owens, M.D. airs Tuesday, Jan. 29 at 9 p.m. on The CW.