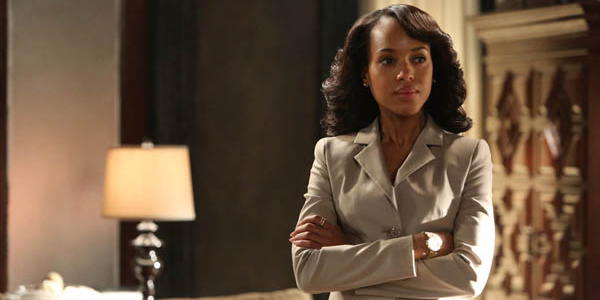 Life has finally allowed me a minute to discuss my thoughts about my show, Scandal.  It's been a while since I've shared my thoughts with you all and in that time there was super-hot Olitz sex in the Oval Office, Fitz was almost assassinated and Hollis remains the slimiest human being alive. In the newest episode, "Truth or Consequence," Olivia's life spirals out of control as deals with a very complicated emotional decision — does she choose Edison or Fitz.

We've had already learned about Olivia's role in the voter fraud scandal that got Fitz elected to the presidency.  This week, however, we see the fallout from Liv's guilt.  The take-no-prisoners, never-stop-moving Olivia Pope spends days in bed, not speaking to anyone. I'm ok with her not speaking to Edison, he's an idiot and the idea of Liv marrying him makes my eyes roll out of their sockets, even if it was a lovely ring.  Cyrus promises to take care of Hollis for Liv.  We know this means using Charlie's life skills to "take care" of Hollis, which wouldn't be the worst thing to happen in my opinion. To relieve her guilt, Olivia points David Rosen towards Hollis and his second phone – connecting him to Fitz's attempted assassin – and tries to find the money trail to secure charges against Hollis. Turns out, after some investigating by Huck that there is a money trail BUT it's not between Hollis and the assassin, it's from an unknown third person to the assassin.  The episode ends with Charlie getting in the same elevator with Hollis after he's been released from questioning by David.
We do get to see how Quinn was set up by the assassin and Hollis, and how Huck rescues her from the hotel room. Also, Mellie plays her last card and somehow "magically" goes into labor four weeks early to get Fitz to her bedside and stop him from going to Olivia's side.  Bellamy Young plays every single layer of Mellie's anger, hurt pride, sadness, and sociopathic planning and the result is a perfectly flawed bitch-on-wheels who strikes back when she feels threatened.  I LOVE to hate Mellie. That's a testament to great acting.
Best/Favorite Moment: Huck in bed with Olivia. He's her person and the only one who can reach Olivia when she's at her worst.

Worst/Cringe Moment: Quinn trying to start a rebellion in the office. Stop it. Liv saved your skin, shut your mouth and do what you're told.

Hottest Moment and/or Hottest Character: Fitz's call to Liv where he reveals he asked Mellie for a divorce.

Character We Loved This Week: Huck, Liv's protector.

Character We Wanted to Slap This Week: Tie between Edison and Quinn, but that's a weekly thing.

Best one liner/quote: Huck, "Hollis Doyle has to go. I can take of that for you, if you want." Olivia, "Huck, you have to stop killing people."

What We're Looking Forward to Next Week: seeing how Shonda is going to let this all play out.

Rating: 4.5/5