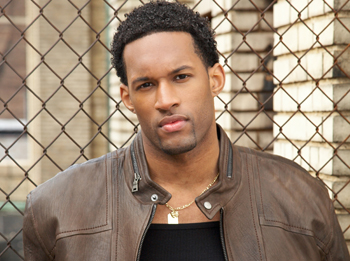 Former "Guiding Light" stars Lawrence Saint-Victor and Karla Mosely talk about their new web series, "Wedlocked."
Lawrence Saint-Victor portrayed Remy Boudreau on Guiding Light for 3 years, joining the cast in 2006. Lawrence is a graduate from S.U.N.Y Purchase with a B.F.A in acting and while he attended college, he starred in Six Degrees Of Separation, Night Of The Iguana, and William Shakespeare's Winters Tale. He also portrayed a soldier in the History Channel's, Honor Deferred. Lawrence dedicates a lot of his time to the Christian organization S.P.E.A.K (Students Praise Empowering and Advancing in the Kingdom), where he participates in bible study and organizes a variety of events.
Karla Mosley, a newcomer to daytime, debuted on CBS' Guiding Light as Christina Moore in 2008. In addition to her daytime appearance, Karla starred in the two-woman play, called Expatriate, and she guest starred in primetime series including CW's hit series Gossip Girl and NBC's hit drama Law & Order.
TVSource Magazine spoke with these two about their new web series, "Wedlocked."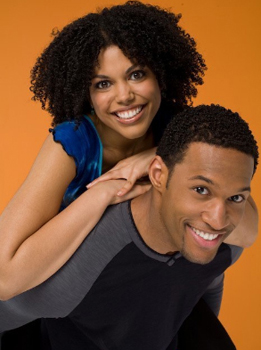 Tell us about the web series. How did it all come about?
Lawrence Saint Victor – Karla's mother actually, Guiding Light was ending, I found out in July, when did she tell you Karla?
Karla Mosley – Late April, maybe beginning of May. [laughs]
Lawrence – She said we should do a spinoff and by the time I found out about in July, I thought it would be a great idea. Not so much a spinoff but just a show about a young married couple and that's kind of where the ball started rolling.
The two of you portrayed a young married couple on CBS' Guiding Light for quite a while, but the show didn't seem to give the characters much of a storyline to work with.
Karla – Well that was kinda of what was also the enticing part of creating this web series. Christina and Remy didn't really get their due. We had a fabulous time but we, there's so much story we'd love to tell and I think Lawrence and I are extremely, we're jokesters, and we like to laugh and have a good time. We are also both newlyweds so we thought this is a really, there's something here and just to be able to go fully into that direction as a romantic comedy or sit com realm because we're not pinned down to the daytime genre anymore and that's a really wonderful development. So we've developed Denise and Robbie who are this new brand of wide eyed bushy tailed not quite so much, slightly dated married couple, that was inspired for sure by the work we did on Guiding Light.
Will some of your co-stars from Guiding Light appear on the new web series?
Lawrence – We have some special actors and actresses stop by, Zack Conroy who played James Spaulding, Kim Brockington who played Felicia Boudreau as well as Yvonna, Yvonna Wright whose played Mel Bourdeau is gonna stop by and play characters you haven't seen them play on Guiding Light, especially Yvonna, her character is quite opposite of Mel. That's the fun part too, taking these actors and putting them in roles opposite of what your used to.
Karla – Also branching out to new audiences as well, I think what's great about comedy; romantic comedy is something we all can relate to. I think Robbie and Denise's relationship is very universal. Anyone who has been in a relationship, who's lived with someone, who's had parents, who's been married will be able to relate to it.
So you have complete control over it? Writing it and producing it?
Lawrence – Yeah this is our project. We have 2 more producers on it, my wife Shay is a producer and the director Christina Faison is also a producer. So it's our baby, us four are the parents of this so, at the end of the day we get to tell the stories we want to tell. We're not held down by network or by sponsors or by studios; we pretty much do what we want to do.
Are you surprised at how many in daytime stars are becoming involved with web series?
Lawrence – Nobody's been able to capitalize on this new media yet, everyone's trying how to use the internet as a tool and I feel like, especially in daytime cause in daytime, I feel like it's the most interactive when it comes to their fans, reaching out to their fans and what's the more interactive platform than the internet?
Karla – And I think there is more that can be done in that area as far as being interactive, getting real feedback what storylines are working or what isn't. Also just literally interacting with the characters, Denise and Robbie, blogging and tweeting and in between, cause the way the launch will happen we will launch on November 1st and then there will an episode a week and there are 5 episodes at this point although we are definitely talking about the next episodes we will be creating. So you'll be getting an episode a week, but in between there will be opportunities to see back stage, goof reel stuff, different interviews with the actors and characters, interviews with people on the street about their experiences with weddings and being married so there is a lot of opportunity for interaction.
Do you see the web series medium catching on and really bringing you closer to the audience and interacting with fans?
Lawrence – I do, because we were talking about interacting but also we'll be having characters doing video blogs and stuff so it's like its complete interaction, I feel like it's not just the online community but people want to know what people are doing all the time. It's kinda weird but that's the kind of genre we're in right now. What a web series does is that it sets you up, traditionally as far as watching episodes, but it also has this whole other element to it too where you'll see a video blog of Denise talking about what Robbie might have done in the last episode it will totally break the 4th wall and I think that's what's going on right now. It's like radio to television and now it seems from television to internet.
Karla – And I also think it is a trend, that people, actors, are becoming more and more accessible you see it with Twitter and Facebook and the social networks where people are beginning to communicate to their audiences, directly. It's nice and it gives us a little more creative license and I think that's really exciting.
The web series is going to be a weekly episode?
Lawrence – It's going to be a weekly thing, starting November 1st and then it will be every Sunday after that.
Is it going to be just the two of you as the newlyweds, are you going to have cameos or do you have a certain set of characters every week they interact with?
Karla – The first 5 episodes we've focused on developing Denise and Robbie's relationship so that the audience can get to know them, because they are the heart of the show but we definitely have, we've set up some other characters that will be coming back and you'll see again and I think that will grow with each episode that we'll kind of be introduced to these other people, who they either just bump into or will become constants in their lives. What's neat is that the show has different themes within that different characters, you'll see a character or object that will reoccur, you'll see something in one episode that will pop up again, it's kind of like a "Where's Waldo" in that way. [laughs] So you'll see something one day and then a couple episodes later you'll see it again.
It sounds like it's going to be a project the two of you will be able to sink your teeth into.
Karla – Yeah and just filling what we feel is a necessary gap in television and entertainment, a young couple who is trying to figure out how to make it work and committed to making it work. It's relatable.
Do you have a special place where these episodes are going to be posted?
Lawrence – It's on my website, Saint Victor Productions, and we are on YouTube, on Facebook and Twitter, so we're all over the place.
Karla – Someone also created a Wed-Locked group on Facebook.
---
This interview is not to be reproduced without written consent from the author and TVSourceMagazine.com
© 2009 TVSource Magazine. All rights reserved