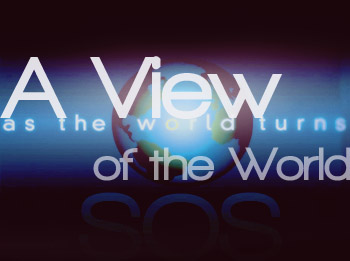 As the World Turns has wrapped up production and from now until September, we'll watch with the awful knowledge that the show we have loved for decades is already gone. Though the majority of current storylines may be wrapped up by the time ATWT ends, there will forever remain unanswered questions regarding all the beloved characters of Oakdale.
As hard as it is to believe, As the World Turns has wrapped up production. While my head has accepted this sad reality, my heart is a few paces behind. While it's a small comfort to know that we can still enjoy episodes that have yet to air, I can't help but feel that the end has already come. From now until September 17th, we'll watch with the awful knowledge that the studio is already dark, the sets are down, and the cast and crew have parted ways and scattered. Though the majority of current storylines may be wrapped up by the time ATWT ends, there will forever remain unanswered questions regarding all the beloved characters of Oakdale.
That makes me unbearably sad. But it also makes me angry. Angry that Les Moonves (the president and CEO of CBS) could so callously wipe away a 54-year-old institution, with the proclamation that ATWT (and previously-canceled GL) had "had a long and distinguished run and their day is over."
It angers me knowing that Mr. Moonves and his network weren't even remotely interested enough in their own viewership to choose kinder words, no matter how true he felt his comments to be. His heartlessness in wiping away decades of faithful fans of the longest-running CBS series with one thoughtless quote is galling. Moonves will forever be known as the man who was responsible for allowing two of the longest running television shows to end under his watch. That is not a claim to fame I'd want under my belt. But still, my bitterness changes nothing. ATWT is dead. And the what could-have-beens will simply linger, with no writer to pen them, no actor to portray them and no medium to showcase them.
For instance, what of Sage, JJ, Faith, Johnny and all the younger generation of Oakdale?  We'll never see them fully grow up. What of Parker? What career path would he have chosen? I'll always wonder if he would have become a cop, like both his dads, Hal and Jack. Part of the beauty of any soap opera is its continuity from one generation to the next. While soap opera youngsters may age more rapidly than humanly possible, at least they're characters we've known for years.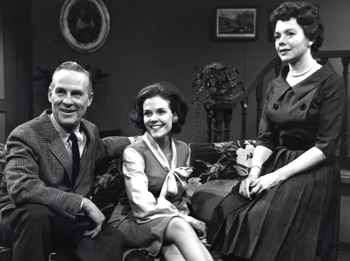 We are most assuredly comforted by the familiarity of characters we know on ATWT.  Even when soaps are at their most ridiculous worst, and ATWT (like all other soaps) has at times been ludicrous, these characters are as loved by us as our own families, and in many cases, are infinitely more likeable.  Even the villains are viewed with a certain degree of affection and acceptance as long-standing members of the ATWT family. James Stenbeck comes immediately to mind. Beyond the pure evil of James Stenbeck, one of ATWT's strengths has been its ability to create characters that are neither all good nor all bad, but real and flawed. And those characters have tended to be the ones I loved best: Craig Montgomery, Carly Tenney, Emily Stewart, Paul Ryan, John Dixon, et al are characters not only with obvious weaknesses, but also with incredible capacities for redemption and good.
All ATWT fans have their own favorite characters and actors, and those particular storylines that we perhaps follow more closely than others.  One of the very best aspects of a soap is that there is something for everyone with many plotlines happening simultaneously.  Because of that, I've never understood how angry some fans could get regarding any given storyline or character.  But then again, that's also more proof of the devoted and loyal following ATWT, and soaps in general, have.
While most ATWT fans are hoping for a suitable wrap-up for their own personal faves, I must admit I'm finding very little comfort in the promise of a "satisfactory" conclusion because the characters I've grown to love (or hate) for not just years, but decades, will be gone. In an instant, they'll all be gone and I'm terribly afraid that the storylines I'm currently invested in are going to have a very rapid, and therefore a very unsatisfying ending.  It's just a hunch, but with less than three months to go, ATWT does not act like a show that should be wrapping things up.  There may very well be a lot of loose ends left dangling and that may very well drive me mad.
It's taken a very long time to absorb all these characters' histories, personalities and interactions with each other. It must also be mentioned that for many fans — and this is unique to soap operas — we literally grew up watching with our mothers or grandmothers or aunts.  For so many of us, ATWT is an heirloom and a treasured hand-me-down.
While most TV shows air once a week, with a hiatus every spring, ATWT has been on the air for 54 years, with no summers off for reruns. That's going to be a very hard habit to break.  Whether one watches on broadcast TV, or records while at work, or watches online — ATWT is a five times a week, 52 weeks-per-year constant.   When September 17, 2010 rolls around and believes me it's going to arrive here in the blink of an eye, what will we do?  It's a terrible question us ATWT fans must contemplate.
Equally upsetting is the fact that there are precious few daytime dramas left on broadcast TV. So the painful reality is that many of ATWT's veteran players simply won't turn up on another soap opera. While many of the "bigger" names will certainly remain employed, there just isn't enough work for all.  So we may really and truly be saying goodbye to some of the brilliantly talented actors we've watched for a literal lifetime.
The true magic of any soap is this: There's always another story around the next corner, just waiting to be told.  So it's long been safe, and even fun to rant and rave when a storyline, or certain character, drove us to distraction. We knew better days were ahead.  But now it feels odd and somewhat pointless to still be criticizing or complimenting, and equally as unsettling to be theorizing on end games and possible outcomes as the last stories have already been written and played out.  As viewers and fans, we're just waiting to see how they decided to end it.
As the World Turns is dead.  May she rest in peace.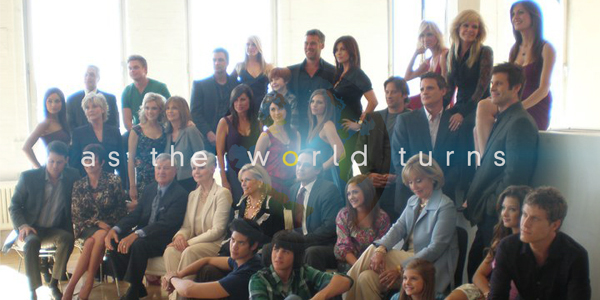 ---
Follow TVSource Magazine on Twitter at @TVSource | Follow Karen Riel on Twitter at @karenriel | Facebook Fan Page
Send comments on this column and more to mailbag@tvsourcemagazine.com