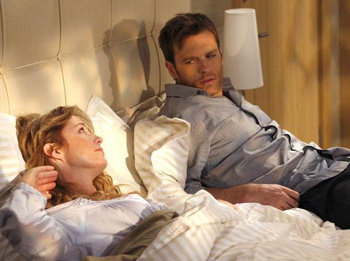 In the debut of The Voice, we take a look at One Life to Live's current storyline involving Todd (Trevor St. John) and Marty (Susan Haskell). Does their past storylines put a kibosh on any enjoyment of the storyline now?
The Voice: Todd & Marty 2.0

BY: Trish Mahon
NEWS EDITOR
EDITING BY: Omar Nobles


Thursday, August 14, 2008, 1:24 PM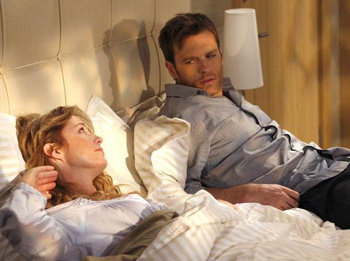 When Marty Saybrooke (Susan Haskell) first came on the canvas many years ago she was a fun loving party girl. One night at a frat party she was a victim of a gang rape. The ringleader of the rape was one Todd Manning (then Roger Howarth). Todd didn't just rape her that night. Marty went ahead with a trial where she revisited the rapes again. This trial ended in a mistrial when Todd's lawyer Nora (Hillary B. Smith) realized that her client was guilty. Todd didn't just end it there; he terrorized her for years to come. Both Marty and Todd left Llanview at different times. Fast forward to 2008 and we are revisiting the Marty and Todd storyline again, but with a twist.
Susan Haskell has returned to the role of Marty and Trevor St. John is now playing Todd. Marty has suffered a horrible accident and everyone she knows and loves, including her son, thinks she is dead. Before her "death" she was embarking on a romance with cop John McBain (Michael Easton) whom Todd despises. Marty remembers nothing from her life, she is suffering from amnesia. The amnesia storyline has long been a daytime staple. But given the deep history of Todd and Marty this story has evolved from disturbing to a storyline that has me glued to the screen.
Marty has started to make demands of Todd. She wants to know about her past and in true Todd fashion, skewers the facts to make him look like a knight in shining armor. He has disclosed that they had a sexual relationship. When Marty asked how that turned out, Todd replied, "You thought I was bad in bed."He has told her about John McBain, except he has lied to her about him to serve his own purpose. He knows that John was falling for Marty and now that Todd has Marty it gives him a little bit of happiness to know that he is keeping Marty away from John. He also told her about her gang rape. Without giving her the names, he told her how one of the rapists is free (himself), one is in prison (Zach) and one is in a mental institution (Powell). He never once let on that he was involved in the rape in any way, shape or form.
Todd has an agenda with Marty yet again. Even though Marty is slowly but surely drawing Todd out in a way that no one, even ex wife Blair (Kassie DePaiva), ever could, Todd wants to crush John McBain. Marty is getting him to elaborate on his feelings for Blair, his children, his mistakes and his past. Could it be possible that Todd is conflicted with confiding in this woman that he once raped and that he could almost, possibly admire now. Or is it all a game to him. With Todd you never know. When Marty asks him to sit next to him to help him with a crossword puzzle or watch the fireworks, you see how uncomfortable Todd really is. Is this remorse that Todd feels? After all this time is he finally facing the fact that he did a truly horrible and atrocious act? When Marty finds out that he raped her (and we know she will) will he be able to accept that fact and atone for his sins? How will Marty be able to reconcile her feelings for her rapist and her benefactor?
Another twist in this storyline is Starr (Kristen Alderson) and Cole (Brandon Buddy). Years ago when the brutal rape occurred, who ever would have thought that the children of Todd and Marty would have a child together. Very soon Todd and Marty will be grandparents. However, Todd's daughter Starr wants to give the baby up for adoption and Marty's son Cole wants to raise the child himself. Eventually Cole signed his rights away and Starr is dead set on giving this child up for the adoption. Todd does not want his grandchild to be given to another family; he wants to raise the child. In fact, he has already confided in Marty that he will raise the child and actually asks her help for raising her own grandchild. That she has no idea about. That Todd doesn't seem to think it is necessary for Marty to know.
One thing is very clear. Trevor St. John and Susan Haskell have undeniable chemistry. They play very well off each other. I completely believe their portrayals of Todd and Marty. Todd is hesitant and guarded yet damaged. Marty is showing an immense trust and loyalty to Todd by wanting to believe in him. The more time that they spend together, the more that Marty trusts him. In her eyes, he has done nothing wrong. In his eyes he sees taking care of Marty as part revenge on Blair and John and part redemption for what he did all those years ago. Ok A lot more revenge than redemption. At first this was a storyline that I could barely stomach watching. But now, Trevor St John and Susan Haskell have sold me on it and I can't get enough of it. In my opinion, it is the best storyline that One Life to Live is giving us right now and I can't wait to see how it plays out.
trish.mahon@tvsourcemagazine.com