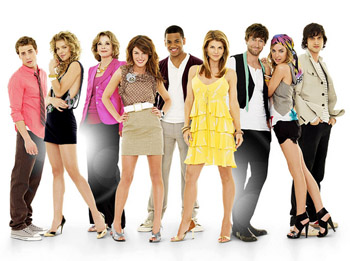 The CW Network announced today they have extended 90210's season.
The CW Network Extends 90210 Season
BY: JENNIFER SNYDER
NEWS EDITOR
Monday, September
22, 2008, 9:43 PM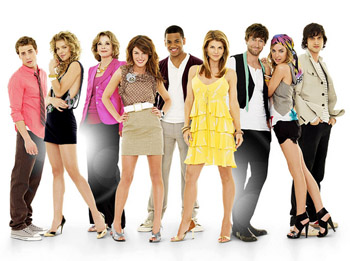 Announced
today by Dawn Ostroff, the President of Entertainment for the CW, the network has taken
notice to the impressive numbers 90210 has delivered for the network.
90210 has become the most popular series in the female demographic and it will
continue to lead the way for the CW network, as the network has extended the
show to a full season of episodes.
"The successful addition of '90210' has taken The CW another step forward in building
a cohesive schedule that defines this network as a destination for young women
with shows that get our audience talking — and watching," said Ostroff. "We're
very excited about the chance to watch this ensemble of newcomers and familiar
faces coalesce and grow together as we move forward."
The 2 hour debut of 90210 delivered impressive ratings for the CW, the highest
ratings in the network's history. The debut produced high ratings in the
following demos, women 18-34 (4.5/12), adults 18-34 (3.1/9) and
adults 18-49 (2.6/7). Over 12 million viewers tuned in to watch the series
debut on the network, giving the network the honor of being Tuesday nights #1
network among all key demographics. With competition increasing the
following week, 90210 impressively gained in target demos, including 6% in women
18-34 (3.3/10), 14% in adults 18-34 (2.4/7) and 3% in total viewers (3.3mil).
90210 continues to show it's network it can be a force to be reckoned with
among it's competition as it has also gained over a third more viewers in target demographics with Live-Plus Seven Day DVR viewing
included.
90210 stars Rob Estes, Shenae Grimes, Tristan Wilds, AnnaLynne McCord, Dustin
Milligan, Ryan Eggold, Jessica Stroup, Michael Steger, Lori Loughlin and Jessica
Walter, with special appearances by Jennie Garth and Shannen Doherty. The show
is produced by CBS Paramount Network Television with executive producers Gabe
Sachs Jeff Judah ("Freaks Geeks") and new-to-the-series Rebecca Kirschner
("Gilmore Girls").
jsnyder@tvsourcemagazine.com
Discuss this news and more at the TVSource Magazine Message Board. Click HERE to visit
Contribute content to TVSource Magazine Content: Fans wishing to send-in news items, previews, show recaps, interview recaps, or anything else newsworthy can now do, with any desired credit, via e-mail by CLICKING HERE.