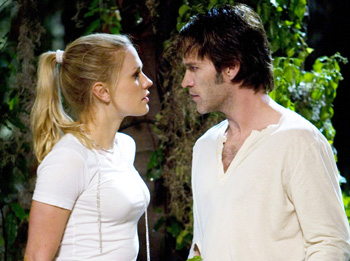 HBO's Original Series, True Blood has been renewed for a second season.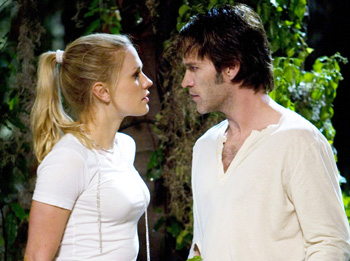 After only airing two episodes of it's original series, True Blood, HBO has taken a chance on this off the wall vampire series and renewed it for a second season. It was announced today by Michael Lombardo, president, Programming Group and West Coast Operations. The series created by Alan Ball will begin production of the new season early next year, with it's debut coming in the summer of 2009.
"We are absolutely thrilled that the critics and our viewers have embraced TRUE BLOOD," noted Lombardo. "Alan Ball has done it again – made an addictive series that is unlike any other."
"I am thrilled to be able to continue to work with such a talented group of writers, cast and crew to explore the characters and world created by Charlaine Harris in her novels," Ball said. "It really is a joy to go to work every day and I couldn't be happier to be back home at HBO."
True Blood's premiere episode delivered a viewing audience of 4 million, considered a hit by HBO, the second episode delivered impressive numbers and it had gained a huge 24% more than it's previous week. Critics across the country have given True Blood mixed reviews, but USA Today has claimed it to be "wildly imaginative," with "one of the best ensembles of the new series." TV Guide has said the new series to be "graphically sexy and scary, and often wildly funny," and "a broadly entertaining, deliciously twisted slice of modern Southern Gothic."
True Blood, set in the deep woods of a small town in Louisiana, it's leading female Sookie Stackhouse (Anna Paquin) is a young empath (she can read minds) has been introduced to a 173 year old vampire named Bill Compton (Stephen Moyer). The series revolves around their romance and his thirst for blood to survive. Thanks to the creation of synthetic blood for his survival, him and his vampire minions have no need to suck on the necks of the residence of the small town in which they have come to call home. The cast rounds out with Ryan Kwanten as Sookie's brother Jason, Rutina Wesley as her best friend Tara Thornton, Sam Trammell as Sookie's good-hearted boss Sam Merlotte and Nelsan Ellis as Lafayette Reynolds, a cook at Merlotte's. Also making an appearance as one of Compton's vampire minions is General Hospital's Graham Shiels (Cody Paul).
True Blood is created and executive produced by Alan Ball and the series is based on novels by Charlaine Harris. True Blood airs on HBO on Sunday nights at 9pm EST.
jsnyder@tvsourcemagazine.com
Discuss this news and more at the TVSource Magazine Message Board. Click HERE to visit
Contribute content to TVSource Magazine Content: Fans wishing to send-in news items, previews, show recaps, interview recaps, or anything else newsworthy can now do, with any desired credit, via e-mail by CLICKING HERE.