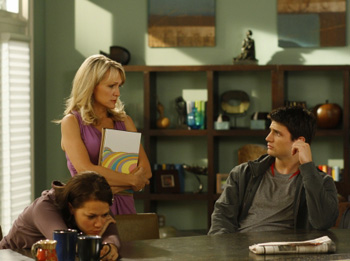 A tragedy rocks the town of Tree Hill
One Tree Hill Previews: September 15 Episode
BY: JACK PEYTON & OMAR NOBLES
NEWS EDITORS
Sunday, September 14, 2008, 4:40 PM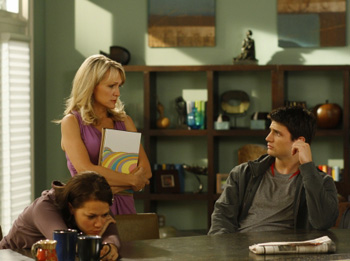 A Tragedy Rocks Tree Hill
Lucas (Chad Michael Murray) returns from Las Vegas to face the loss of one of his star players and students, Quentin aka Q. Nathan (James Lafferty) and Haley (Bethany Joy Galeotti) struggle to find a way to help Jamie (Jackson Brundage) understand the death of someone close to them. Lucas & Nathan meet Quentin's mother.
Meanwhile, Brooke (Sophia Bush) tries to deal with life after her assault and robbery; Deb and Skills continue to keep their relationship secret.
The One Tree Hill episode "Get Cape. Wear Cape. Fly." airs Monday, September 15 (9:00-10:00PM) on The CW.
On The 9/22 Episode of One Tree Hill- "Bridge Over Troubled Water"
Lucas has truoble inspiring his team. Meanwhile, Haley looks into someone's disapearance. Brooke confronts someone from her past. Nate deals with his mother's new relationship. Peyton is surprised when a famous musician drops by her studio.
---
jpeyton@tvsourcemagazine.com |
editor@tvsourcemagazine.com
Discuss this news and more at the TVSource Magazine Message Board. Click HERE to visit

Contribute content to TVSource Magazine Content: Fans wishing to send-in news items, previews, show recaps, interview recaps, or anything else newsworthy can now do, with any desired credit, via e-mail by CLICKING HERE.