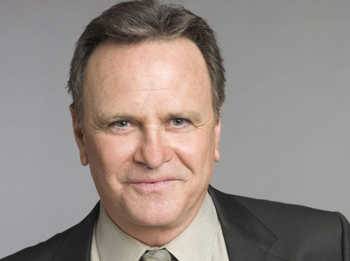 Secrets, lies and confusion this week on "One Life to Live."
{xtypo_alert}Did You Know? TVSource Magazine is now on Facebook! To join our group, please click here{/xtypo_alert}
Who's Your Daddy?
A last ditch effort to lasso David and Dorian pays off! Or does it? Bo has the lab run another DNA test on David to confirm that he's Asa's son. The results are surprising to a LOT of people. Bo has to reveal a secret from his past and Roxy's lie that David is Rex's father is exposed. The results also provide the Buchanan's with some leverage to pry David and Dorian out of the Buchanan mansion, for starters. But Dorian isn't giving up so easily. Viki offers David some advice as he ponders his future. Roxy confesses that she killed Rex's father and begs him to drop the matter.
Sibling Rivalry on Steroids!
Gigi's skepticism about her sister increases when she finds nearly naked Stacy comforting Rex after a nightmare. Stacy breaks Oliver's heart when she explains that what they shared was only a one night stand. Gigi is disturbed by Stacy's behavior. Later Gigi makes it clear that Stacy isn't going to mooch. Natalie and Jessica make an effort to mend their relationship, and Natalie is convinced finding out everything about the night Chloe was born will help. Jared prevents Natalie from sharing all they've learned.
What Happens With the Vegas . . .
Doesn't stay with the Vegas. When Ray threatens Vanessa with a knife, Cristian comes to her rescue. Vanessa is forced to make a shocking confession. She framed Ray for murder, but she genuinely believes he is guilty. Ray and Vanessa are arrested. Cristian and Antonio are furious with Tea. Lola has a secret.
Elsewhere in Llanview
John and Blair have a painfully frank discussion about their feelings. Blair sticks it to Marty. Langston and Starr make up. Schuyler urges Cole to seek help, making Cole furious with Starr for snitching. Langston learns of Markko's acceptance to UCLA.
Can't Miss …
Clint, Nora and Nigel turn to Viki in their hour of need on Monday, February 23.
Bo shares some shocking news with Rex on Tuesday, February 24.
Noelle lends Oliver a shoulder on Wednesday, February 25.
Roxy confesses to murder on Thursday, February 26.
Starr severs ties to Todd on Friday, February 27.
Coming Soon: Week of 3/02
David makes a decision and Starr urges Cole to seek help. Natalie seeks Rex's help and Gigi catches Stacy in a lie. Natalie and Rex make a surprising discovery, things heat up between John and Blair and Marty confronts Cole about his drug use. Blair is furious when John leaves her to help Marty, and Cole gets an eyeful. Cole makes a fateful choice, Blair's life is in danger, and Stacy has a plan to get what she wants.
---
If you copy and paste our spoilers, please credit TVSource Magazine and/or provide a link back.