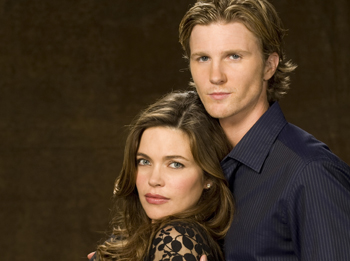 Thad Luckinbill, Amelia Heinle, and Lesli Kay are set to guest star on an episode of "Ghost Whisperer."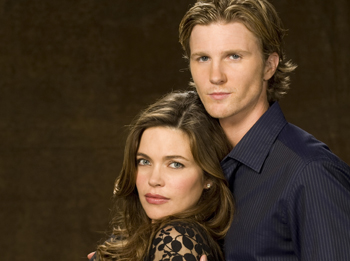 The Young and the Restless co-stars, Thad Luckinbill and Amelia Heinle (J.T. and Victoria) along with The Bold and the Beautiful Lesli Kay (Felicia) will cross over to primetime as they make an appearance on CBS' Ghost Whisperer. The three portray soap actors, Grant Harper, Brooke Dennis, and Suzanne Zale on a fictional soap opera, Hope's Edge, which is being filmed in Melinda's (series star Jennifer Love Hewitt) hometown of Grandview. An unsettled spirit of a late Hope's actor becomes a major part of the episode.
The on and off screen couple of Thad Luckinbill and Amelia Heinle portray J.T and Victoria Hellstrom on CBS' The Young and the Restless, a young professional couple who are raising their son and both employed by Newman Enterprises, owned by Victor Newman, Victoria's father. The character of J.T. first appeared in 1999 and was a high school friend of Billy Abbott (then portrayed by David Tom, currently Billy J. Miller), he had a reputation of being a ladies man and his treatment of his then girlfriend, showed just how much. J.T. has since moved on from his wild high school days and settled down with Victoria Newman, but not before he was to take on the responsibility of perhaps another man's baby. Victoria became comatose because she hit her head during an explosion and the decision was made to do an emergency C-section to save the life of her unborn child. Victoria not knowing if the child was J.T.'s or her estranged husband, Brad Carlton. J.T. stood by Victoria and vowed to always be the father of the child, despite DNA. J.T. and Victoria marry a few days after she awakens from her coma and move into the cottage on the Newman property. Currently J.T. is the head of security for Newman Enterprises, while Victoria holds a high ranking position at Newman Enterprises and holds a seat on the Newman Board of Directors.
Lesli Kay, no stranger to daytime, currently portrays Felicia Forrester on CBS'
The Bold and the Beautiful
. She has also portrayed the same character on it's sister soap,
The Young and the Restless
in crossover storyline from March to April in 2008. Lesli has portrayed the character of Felicia since November 2005. Kay's also appeared on ABC's
General Hospital
as Lois Cerullo (2004-2005), and Molly Conlan on CBS'
As the World Turns
(1997-2004).
ER
veteran Kellie Martin will play the fictional soap's head writer. The actress told
TV Guide
, "It's all very complicated, but fun." The soapy episode of
Ghost Whisperer
is scheduled to air May 1 on CBS. Check your local listings for times.