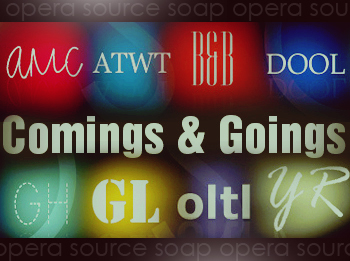 Daytime's coming and goings for the week of June 29, 2009.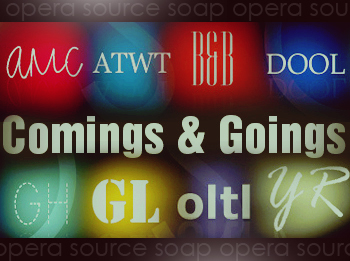 The revolving door of Daytime is forever swinging and in the most recent weeks has been no exception. Newcomers, welcomed returns, and cameo appearances grace daytime screen in the coming months. How will these comings and goings effect your favorite show? You will have to tune in to find out!
THE BOLD & THE BEAUTIFUL
Coming to Los Angeles
Victor Alfieri will reprise his role as Giovanni Lorenzano. He returns to LA as the sexy photographer on July 16.
Jim J. Bullock will reprise his role as Serge on August 12, 13, and 14.
Morgan Fairchild will appear as Dottie, a socialite gal pal of Stephanie Forrester. Her visit prompts a competition of fashion between Forrester Creations and Jackie M. Fairchild on August 12, 13, and 14.
Melissa Rivers will be appearing as herself as she is guest judge at the fashion show. She also appears on August 12, 13, 14.
Alan Thicke will also be appearing at the fashion show as the arrogant talk show host, Richard Ginger on August 12, 13, 14.
DAYS OF OUR LIVES
Coming to Salem
Rachel Kimsey will be coming to Salem as Meredith, a woman connected to Rafe's (Galen Gehring) past. She appears on July 17.
David Leisure takes on the role of District Attorney. First airdate is unknown at this time.
Crystal Chappel returns to Salem as Carly Manning. She portrayed the popular role on DAYS from 1990-1993. She will begin appearing in Salem after her role on CBS' Guiding Light wraps up at the end of summer.
Wally Kurth will be returning to Salem as Victor Kiriakis' (John Aniston) newphew, Justin. Kurth left the role of Justin in 1991 and returns on August 10.
GUIDING LIGHT
Coming to Springfield
Gil Rogers will be arriving in Springfield on July 3 as Reva's (Kim Zimmer) father, Hawk Shayne.
Nancy St. Alban and Paul Anthony Stewart return to Springfield as Michelle and Danny Santos on July 2.
Krista Tesreau return to Springfield as Mindy Lewis on July 2 for the Bauer picnic.
ONE LIFE TO LIVE
Coming Llanview
Amanda Setton comes to Llanview as Kimberly Andrews, a woman who will be getting involved with Rex, Gigi and Stacy in August. Gilmore Girl fans may recognize her as she portrayed social climber Penelope.
THE YOUNG AND THE RESTLESS
Coming to Genoa City
Sean Kanan
brings his
B&B
character of Deacon to Genoa City. Will this jump to
Y&R
reconnect Deacon with old flame Amber (Adrianne Frantz)? Only time will tell.