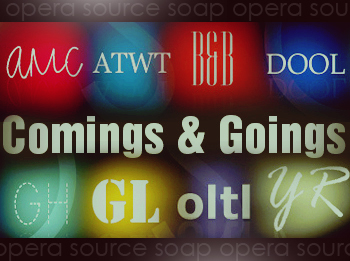 Daytime's coming and goings for the week of July 20, 2009.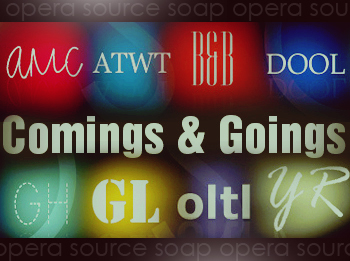 The revolving door of Daytime is forever swinging and in the most recent weeks has been no exception. Newcomers, welcomed returns, and cameo appearances grace daytime screen in the coming months. How will these comings and goings effect your favorite show? You will have to tune in to find out!
ALL MY CHILDREN
Coming to Pine Valley
Lorenzo Pisoni joins the cast as Assistant District Attorney Andrew Willis. He debuts on July 15.
AS THE WORLD TURNS
Coming to Oakdale
Forbes March will be appearing in Oakdale as Mason Jarvis. He will be Noah's college adviser and debuts on July 14.
Leaving Oakdale
Maura West (Carly Tenney) will be taking her maternity leave shortly. Maura gave birth to her fifth child on June 16.
THE BOLD & THE BEAUTIFUL
Coming to Los Angeles
Rick Hearst returns to Los Angeles as Whip Jones on July 17.
Victor Alfieri will reprise his role as Giovanni Lorenzano. He returns to LA as the sexy photographer on July 16.
Jim J. Bullock will reprise his role as Serge on August 12, 13, and 14.
Morgan Fairchild will appear as Dottie, a socialite gal pal of Stephanie Forrester. Her visit prompts a competition of fashion between Forrester Creations and Jackie M. Fairchild on August 12, 13, and 14.
Melissa Rivers will be appearing as herself as she is guest judge at the fashion show. She also appears on August 12, 13, 14.
Alan Thicke will also be appearing at the fashion show as the arrogant talk show host, Richard Ginger on August 12, 13, 14.
GENERAL HOSPITAL
Coming to Port Charles
Sebastian Roche will be returning to the show as Jerry Jacks. He returns to stir up trouble in July.
GUIDING LIGHT
Leaving Springfield
Gina Tognoni will be leaving her role as Dinah Marier and has taped her final scenes.
ONE LIFE TO LIVE
Coming Llanview
Michael Lowry comes to Llanview as Ross, who was last seen stranded on an island with Tea in 2002. The character of Ross has been previously portrayed by Shawn Christian (Daniel, DAYS).
Nicholas Rodriguez joins the cast as Nick, a friend of Kyle (Brett Claywell). He debuts on August 14.
Chris Stack returns for a couple of episodes as Michael McBain. Michael returns to Llanview to help Gigi, Rex, and Shane.
THE YOUNG AND THE RESTLESS
Coming to Genoa City
John Driscoll
joins the cast as Phillip Chancellor IV, the son of Nina (Tricia Cast) and Phillip III (Thom Beirdz). His first airdate is July 16.