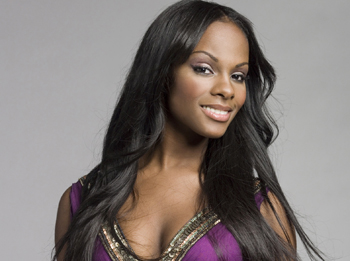 Layla learns the truth
{xtypo_alert}Discuss the latest happenings in daytime, primetime and entertainment by joining the our Message Board Community!
We're also available on Twitter! Follow us to receive news, spoiler and gossip alerts.{/xtypo_alert}
Le Bol de Poisson (The Fish Bowl)
After meeting Nick, Layla's suspicions about Fish are on fire. Layla shares her thoughts with Cristian and becomes aware that Cris knows more than he's telling. Layla forces Cris to admit he saw Kyle and Fish kissing. Layla confronts Fish, but although Fish admits he and Kyle slept together, he continues to insist he isn't gay. Meanwhile, Stacy's scheme to seduce a drugged Schuyler fails, because even under the influence, Schuyler only wants Gigi. Stacy is resigned that she has no choice but to tell Rex the truth and steels herself to face Rex and Gigi. Kim has other ideas. A discouraged Stacy winds up drinking alone until joined by an equally despondent Fish. Fish is miserable when he wakes up in Stacy's bed with the memories of his close encounter with Kyle. Fish returns home to face Layla and Cristian.
John and Fish plan a sting operation to expose Keaton as a dirty cop, but they net an even bigger fish in Mayor Lowell when they uncover Lowell's role in the drug operation. John allows Lowell to cling to his false sense of security. Later John promises Cole that he won't allow Lowell anywhere near Marty, Starr or Hope. Marty sorts through her own feelings for John as she analyzes Todd during his court mandated therapy session.
After Rex gives her the goods on Ross Rayburn's location, Blair sets off to Tahiti to find him, over Dorian's strong objections. Meanwhile Tea stands up to Elijah, but a phone call from Ross leaves her so rattled she prepares to flee. When Todd returns home to find Tea with her suitcases packed, he breaks down and tells her how he really feels about her and persuades her to stay and they make love. Elijah informs Todd he no longer has to live at La Boulaie and Todd surprises Tea with a marriage proposal. Tea makes demands of her own to Elijah.
ELSEWHERE IN LLANVIEW
Dorian agrees to be Mayor Lowell's campaign Manager. With Charlie's encouragement and her family's approval, Viki enters the race for Mayor. Someone is keeping close tabs on Jessica, Brody, Natalie and Jared. Rex and Gigi's argument turns into passion. Rachel and Greg's attraction grows as they engage in a dancing duel setup by Matthew.
CAN'T MISS…
Rex gives Blair the goods on Ross and Blair decides to track him down. Marty shrinks Todd. Todd finds Tea ready to run. Charlie encourages Viki to run for Mayor on Monday August 24.
John and Fish set a trap for Keaton. Blair boards a plane to Tahiti. Nick arouses Layla's suspicions about Fish. Stacy's seduction of Schuyler fails. Rex and Gigi's argument turns to passion on Tuesday, August 25.
John and Fish's sting pays off. Cris tells Layla about Fish and Kyle. Langston gets acquainted with sexy shirtless Ford. Greg and Rachel duel on Wednesday, August 26.
Langston and Markko make love. Layla confronts Fish. Kim stands up for Stacy. Stacy and Fish drown their sorrows. Dorian becomes Lowell's campaign manager on Thursday, August 27.
Todd proposes to Tea. Fish wake up in Stacy's bed. Cris gives Layla a shoulder to lean on. Blair presses Ross for answers. Viki decides to run for Mayor. Somebody's watching Jessica, Brody, Natalie and Jared on Friday, August 28.
COMING SOON: Week of 8/31
Blair and Ross join forces against Todd and Tea. Todd sees Cole dealing drugs and worries for Starr and Hope. Thanks to Dorian, Cole's undercover operation becomes life threatening. Fish explains to Cristian and Layla why he can't live his life as who he is meant to be. Nora ends up in jail, but she has company.
© 2009 TVSource Magazine. All rights reserved
Please credit TVSource Magazine and provide a link back if you copy & paste our spoilers
---