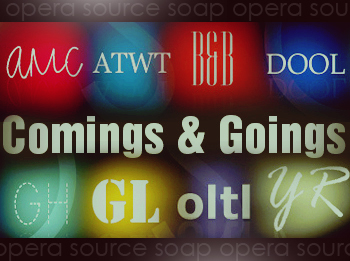 Daytime's coming and goings for the week of August 18, 2009.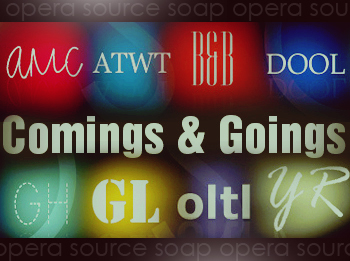 The revolving door of Daytime is forever swinging and in the most recent weeks has been no exception. Newcomers, welcomed returns, and cameo appearances grace daytime screen in the coming months. How will these comings and goings effect your favorite show? You will have to tune in to find out!
ALL MY CHILDREN
Coming to Pine Valley
Aryn Elaine Cole will impersonate Kendall as part of Zach and Jesse's plan. Cole first appears as Kendall this coming week when Zach and Jesse pay her to do jail time for Kendall.
AS THE WORLD TURNS
Coming to Oakdale
Alexandro Chando returns to Oakdale as Maddie, Henry's (Trent Dawson) sister. She last appeared as Maddie in 2007. Look for her to re-appear in late September
THE BOLD AND THE BEAUTIFUL
Coming to Los Angeles
Jim J. Bullock, Morgan Fairchild, Melissa Rivers, and Alan Thicke will arrive in LA for the Jackie M Fashion Show beginning on August 12.
Samantha Potter will be portraying a runway model for the fashion show. Potter is the runner up winner of America's Next Top Model, she arrives on August 13.
DAYS OF OUR LIVES
Coming to Salem
John Callahan returns as Nicole's (Arianne Zucker) doctor, Dr. Richard Baker on August 12.
Nikki Deloach will arrive in Salem as Brenda and will be in a storyline with Dean (Nick Stabile). She previously appeared on North Shore with Salemite Jay Kenneth Johnson (Phillip Kiriakis). Her first airdate is August 17.
Wally Kurth will reprise his role of Justin Kiriakis on August 11. He returns to Salem to represent Daniel (Shawn Christian).
Louise Sorel returns to Salem as Vivian Alamain. Vivian was last seen in 2000, and Louise has signed a one year deal with the soap.
Kevin Spirtas will reprise his role as Chloe's father, Dr. Craig Wesley. A comatose Craig was last seen in 2005. Kevin is scheduled to appear for 3 episodes, first returning on August 28 and leaves Salem on September 3.
Staying in Salem
Kristian Alfonso has inked a new deal with the soap. She came to Salem in 1983 and recently signed a new one year contract.
GENERAL HOSPITAL
Coming to Port Charles
Cara Pfiko arrives in Port Charles as Louise, PC's new Assistant District Attorney on August 11. The role is recurring.
GUIDING LIGHT
Coming to Springfield
Lisa Brown returns to Springfield as Nola Reardon Chamberlain, Vanessa's former foe and estranged sister-in-law.
Morgan Englund reprises his role of Reva's eldest son, Daniel Lewis. He arrives on September 14.
Melissa Hayden reprises her role of Matt's sister, Bridget Reardon. She last appeared on screen in 1997. She also returns to Springfield on September 14.
Jessica Leccia returns as Natalia Rivera on August 17.
ONE LIFE TO LIVE
Coming Llanview
Lisa Evans and J. Tucker Smith
arrives in Llanview as Fish's (Scott Evans) parents Barbara and George Fish. Their first airdate is September 16.
Amanda Setton
will appear as Stacey's former stripper gal pal, Kimberly Andrews. She first appears on August 14.
Tuc Watkins
returns to Llanview as David Vickers. He is slated to return on August 10.
THE YOUNG AND THE RESTLESS
Coming to Genoa City
Laura Saltman
real life ACCESS HOLLYWOOD reporter will appear as a ruthless reporter for the National Inquisitor, Sonia Wells. Her first airdate is August 24.