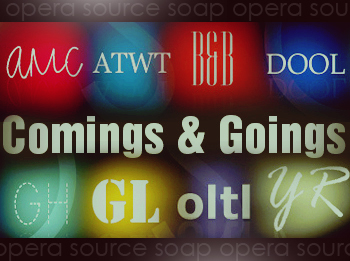 The coming and goings report for daytime — Week of November 16 Edition.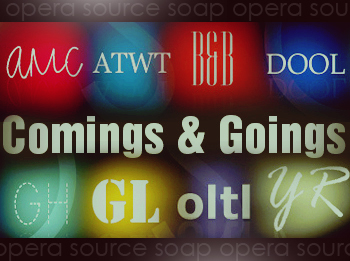 The revolving door of Daytime is forever swinging and in the most recent weeks has been no exception. Newcomers, welcomed returns, controversial exits and cameo appearances grace the daytime screen in the coming months. How will these comings and goings effect your favorite show? You will have to tune in to find out!
AS THE WORLD TURNS
Coming to Oakdale
Susie Ambermeit who portrays Anna, Mike Kasnoff's (Mark Collier) wife. Her first airdate is November 12.
Mark Collier returns as Mike Kasnoff, an ex of Katie's (Teri Columbino) who runs into Jack (Michael Park) in South Carolina. He appears on November 12 & 13.
Lesli Kay returns as Molly McKinnon, confidante and cousin of Carly (Maura West). Molly hasn't been seen in Oakdale sine 2004. Molly returns on November 17.
Paul Leydon will reprise his role of Simon Frasier on November 20.
Tom Pelphrey joins the ATWT cast as Mick Dante and will encounter Alison (Marnie Schulenburg) on November 10.
Leaving Oakdale
Forbes March will be exiting his role of Mason. March who joined the cast of ATWT in July 2009, will last appear on November 16.
THE BOLD AND THE BEAUTIFUL
Coming to Los Angeles
Joanna Johnson returns as Karen Spencer, Bill's (Don Diamont) sister. She returns to LA for the wedding of her brother Bill and Katie Foster (Heather Tom). She returns on November 12.
Barry Livingston and Erin Moran (Mike and Kelly) come to LA as a married couple from the Logan's old neighborhood. Livingston portrayed Ernie on My Three Sons and Moran best known for her portrayal of Joanie Cunningham on the sit com Happy Days. The married couple appears on November 12 and 13.
GENERAL HOSPITAL
Coming to Port Charles
Scott Reeves joins the cast of GH as Steven Lars Webber, brother of Elizabeth Webber (Rebecca Herbst). Reeves previously portrayed Ryan on CBS' The Young and the Restless. The character of Steven was last seen in 2004 and was portrayed by Shaun Benson. He debuts on December 9th.
Marsha Thomason (character name not yet known) joins the cast of GH later this Fall. Thomason best known for her stint on the ABC hit series, Lost and her 2 season gig with GH alum Vanessa Marcil on NBC's Las Vegas. Thomason's character will play opposite James Franco's character, Franco during his brief stint in Port Charles, later this month.
Leaving Port Charles
Natalia Livngston will be exiting her role of Rebecca Shaw. Livingston joined the cast in 2004 as Emily Quartermaine and left the role in 2008, only to return to Port Charles as con artist Rebecca Shaw. Livingston will be exiting before the end of the year.
ONE LIFE TO LIVE
Coming to Llanview
Roscoe Born reprises the role of Mitch Laurence, the role he originated in 1985. Born makes his appearance the week of November 16.