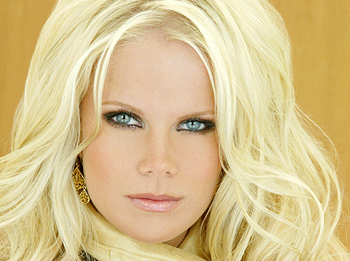 Kim and Stacy hatch a plan to keep Stacy's baby secret under wraps.
Check out the debut of "The SoapBox" a new soap column at TVSourceMagazine.com
WEB-SURFING LLANVIEW USA
Schuyler sweats over the secret that he's the father of Stacy's baby, wondering if Kyle will spill the beans. Gigi picks up on Schuyler's anxiety. Stacy and Kim are worried that suspicions will mount when Valentine's Day passes and still no little Laurence cherub arrives. The resourceful Kim discovers on the internet that oxytocin induces labor, and she and Stacy know just how to get their hands on the drug. Schuyler has as much to lose as Stacy, and he works in a hospital. Kyle stews about keeping Stacy and Schuyler's secret, and when he learns that Fish had sex with Stacy too, things start adding up and he wonders if perhaps Fish is really Stacy's baby's daddy. Fish is flabbergasted, and he and Kyle confront Stacy and Kim who force them to back off by threatening Kyle's medical career. Fish and Kyle decide to hold their cards close to the vest and wait until the baby is born to take action.
Tea and Danielle return to Llanview and settle in at Rachel's. Tea rushes to see Todd and tell him that Danielle knows he is her father and that Ross is alive. Todd worries how he will explain his past misdeeds to his daughter, but Danielle has already researched Todd on the internet. Matthew shows up at Rachel's and discovers despondent Danielle. Matthew introduces Danielle and Starr. Todd asks Marty to help him explain his history to Danielle, but she refuses, and he's even more horrified when he learns that Danielle has already seen the news reports. Todd is so anxious he wonders if Tea should just return to Tahiti with Danielle, but Tea assures him that everything will work out.
ELSEWHERE IN LLANVIEW
Jessica and Natalie are dismayed to learn Kim is living at the mansion. Charlie allows Viki to think he's drinking again to cover what he's really up to – plotting with Dorian to kill Mitch. Mitch reaches out to Jessica, but Brody confronts Mitch instead. While Brody is occupied elsewhere, Nurse Charles kidnaps Jessica. John prevents Brody from killing Mitch, and when Lowell and the cops try to detain Brody, John interferes and is arrested. Brody is desperate to find Jessica. Langston can't stop thinking about Ford and confesses to Blair that she fantasized about Ford while making love with Markko. Cris and Layla wrangle an invitation for their new roommate to Starr and Langston's party. Langston is dismayed to learn Ford will be at the party, but when he tries to kiss her, she doesn't resist. Rex and Stacy meet with Eli to discuss guardianship of their child should something happen to both of them.
CAN'T MISS THIS WEEK
Gigi picks up on the fact that something's bothering Schuyler, who's privately worried Kyle might spill the beans about Rex not being the father of Stacy's baby on Monday, January 18.
Blair takes a sullen Todd to visit Starr on her birthday but nothing can get his mind off of missing Tea on Tuesday, January 19
Langston, who can't shake sexy thoughts of Ford, can barely hide her upset after learning he's coming to her party on Wednesday, January 20
Marty refuses to help Todd redeem himself in Danielle's eyes on Thursday, January 21
John stops Brody from killing Mitch with his bare hands on Friday, January 22
---
© 2010 TVSource Magazine. All rights reserved
Please credit TVSource Magazine and provide a link back if you copy & paste our spoilers