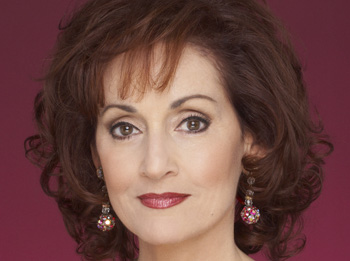 Mitch ominously warns Dorian that one of her girls is already doomed.
Don't forget to vote for your favorite actor, actress, and couple in TVSource Magazine's new weekly poll, Pulse Poll! Vote for your favorites beginning at 4pm on Friday, February 12!
ICECAPADES
Mitch warns Dorian that one of her "girls" is doomed. Dorian frantically tries to warn her Cramer brood and reaches Kelly and Adrianna as they share cocktails in Paris. Kelly ignores Dorian's warning, until she hears from Cassie that the threat is very real. Before she learns of the danger, Adrianna leaves with Emile. When she discovers Adrianna is missing, Kelly seeks David's help in finding her, but when they finally catch up to Adrianna, they also face a challenge. Back in Llanview, Charlie confesses to Viki he shot Jessica, and Mitch spills the beans that Charlie and Dorian were conspiring together. Viki unloads on Dorian, who explains she was just protecting her family. Dorian fires Lowell, but Viki lets it be known that will not be reparation for Dorian's misdeeds. Blair gathers up Hope and Starr. Langston's kiss with Ford is interrupted by the summons to get home where it's safe. Dorian meets with Blair, Starr and Langston to explain everything. Blair, Starr and Langston forgive Dorian, but find her manipulation of Charlie hard to stomach. Dorian apologizes to Charlie, but he takes full responsibility. Mitch taunts the pair as Charlie is led to prison.
Gigi falls through the ice but manages to keep Sierra Rose from the freezing water. Gigi passes the newborn to Fish, then is rescued by Rex and Schuyler. Schuyler revives Gigi. Stacy spots the group and tries to reach them over the ice, but she too falls through. Rex and Fish's attempts to save her fail. Kim is devastated to learn that Stacy died and lashes out at Rex for the way he treated Stacy when she was alive. Gigi stays by Sierra Rose's bedside in the NICU, and is alarmed to learn that the baby has a congenital heart defect that requires surgery. Sky admits he is the baby's father so he can consent to the live saving procedure.
ELSEWHERE IN LLANVIEW
Marty doesn't hide her anger when she finds John and Natalie locked in a kiss. Natalie encourages John to try and make things right with Marty. Brody questions Marty about the effects of electroshock therapy. Cristian warns Ford about getting involved with a student. Greg gives Clint, Viki and Brody good news about Jessica. Brody tells Clint and Viki about the electroshock therapy Mitch subjected Jessica to. Viki and Clint are relieved when Jessica knows who they are. Jessica doesn't recognize Brody. Charlie apologizes to Clint for hurting Jessica. Viki resists the urge to call Charlie back as he walks away. Marty shares her diagnosis with Viki, Clint and Brody after examining Jessica. John tries to straighten things out with Marty.
CAN'T MISS THIS WEEK
Mitch informs Viki that Charlie and Dorian were working together. After putting the pieces together, Viki comes face to face with Dorian on Monday, February 15.
Rex dives into the water when Stacy goes under but his efforts to save her are in vain on Tuesday, February 16
A frantic Kelly enlists David's help to track down Adriana, fearing she could be in danger after having left the café with Emile on Wednesday, February 17
Charlie apologizes to Clint for hurting Jessica. Viki resists the urge to call Charlie back as he walks away on Thursday, February 18
Standing by the lake's edge, Kim says an emotional goodbye to Stacy on Friday, February 19
---
TVSource Magazine
is looking for weekly, bi-weekly and/or monthly "One Life to Live" columnists. Applicants should be efficient, reliable, intelligent and team players with strong writing skills. If you are interested in
becoming a columnist for "One Life to Live" or perhaps another soap or primetime show, please contact us at staffpositions@tvsourcemagazine.com. Feel free to pass this information on to any other "One Life to Live" fans you know.
---
© 2010 TVSource Magazine. All rights reserved
Please credit TVSource Magazine and provide a link back if you copy & paste our spoilers