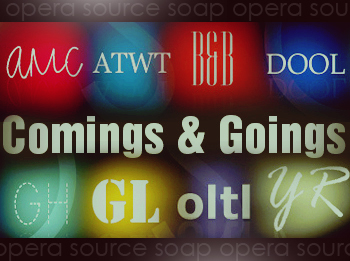 The coming and goings report for daytime — Week of February 15th Edition.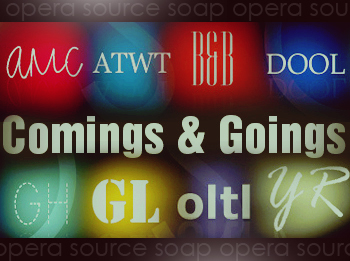 The revolving door of Daytime is forever swinging and in the most recent weeks has been no exception. Newcomers, welcomed returns, controversial exits and cameo appearances grace the daytime screen in the coming months. How will these comings and goings effect your favorite show? You will have to tune in to find out!
ALL MY CHILDREN
Coming to Pine Valley
Don't be alarmed if JR's (Jacob Young's) son looks a little different. Tate Berney will take over the role of 'Little Adam' on February 23, previously played by Declan and Rory McTigue. Upon Berney's debut, Little Adam will now be known as AJ.
Los Angeles City Council President Eric Garcetti, will play himself in the February 16th episode of AMC. When he visits Pine Valley, he'll share the screen with PV billionare Adam Chandler (David Canary).
Antonio Villaraigosa, the Mayor of Los Angeles will pay a visit to Erica Kane (Susan Lucci) on February 17.
Soap Opera Weekly reports a casting call that sounds a lot like Jamie Martin (last played by Justin Bruening) has been sent out by AMC.
Leaving Pine Valley
Veteran David Canary (Adam) is reportedly leaving the show. More details to come….
AS THE WORLD TURNS
Coming to Oakdale
As previously reported, former Guiding Light star Daniel Cosgrove has been cast in the role of Dr. Chris Hughes. Cosgrove's first airdate has been set for March 11.
Ernest Mingione will portray Rocco Ciccone, the estranged father of Julie Pinson's Janet Ciccone Snyder. Dusty (Grayson McCouch) invites him to Oakdale to help care for his sick granddaughter Liberty. Mingione was formerly seen on the primetime series 'Third Watch' as Desk Lt. Kowalski from 1999-2000.
Leaving Oakdale
Tom Pelphrey's time on
As The World Turns is coming to an end Soap Opera Weekly reports.
THE BOLD AND THE BEAUTIFUL
Stephanie Wang returnas as Madison on February 18.
Forrester photographer CeCe Tsou (Brio) returns on February 18 and February 19.
B&B is casting the recurring role of Herbie, a 18-22 year old socially awkward, smart computer geek with a sense of humor reports Soap Opera Digest.
DAYS OF OUR LIVES
Coming to Salem
As reported last week, Judi Evans will return as Adrienne Kiriakis in late March.
Soap veteran and fan favorite Stuart Damon (ex-Alan, GH; ex-Ralph, ATWT) joins the cast as Governor Jim Ford.
Leaving Salem
Bryan Dattilo will last air in the role of Lucas Horton on February 18. Dattilo, who joined the cast of DAYS in 1993 and has come and gone in the past, doesn't see him making a return. "No. That's it; 15 years on air. I can say I did a soap opera that long," the actor told Soap Opera Digest. "I don't know what the future holds in terms of another soap opera, but it would be hard to swing the bat for somebody else. Who knows? But I don't see coming back. I think that was it for Lucas. You might see someone else play the character of Lucas, but he won't be BRD. He won't have the pizzazz. He won't have the funk."
GENERAL HOSPITAL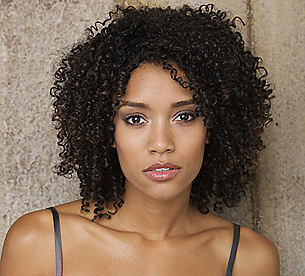 Coming to Port Charles
In January it was reported GH would be adding two new Ward characters to the show.
"The Q's and their history will come to the forefront as the Ward family is going to be resurrected in a new form," said head writer Bob Guza last month to ABC Soaps In Depth. "It's in the early stages of development now, but we're going to reset the Quartermaines, particularly Edward, in terms of the Wards' return." TVGuide Magazine broke the news of one of the casting choices on February 11. Annie Ilonzeh has been cast as medical intern Maya Ward, the great-granddaughter of Edward Quartermaine. Ilonzeh will first air March 31. The actress can currently be seen as Aphrodite Girl in the big screen film Percy Jackson & the Olympians: The Lightning Thief. It's said she will catch the eye of one of the Spencer Brothers. As for her sister Zoe? No word on that casting…
Lindze Letherman (Georgie) is set to make a return later next month for a few appearances beginning March 26. The actress character was killed off in 2007 at the hands of the Text Message Killer. Georgie will return for a few episodes to give sister Maxie (Kirsten Storms) advice at a "pivotal moment" in her life, according to Entertainment Weekly.
Guiding Light alumn Bradley Cole (ex-Jeffrey) has been cast as Carlton Bauer, the father of abusive teenager Kiefer Bauer (Christian Alexander). Lisa Waltz has been cast as Kiefer's mother Melinda.
Donald Agnelli is coming to Port Charles as a biker. He appears at Jake's on March 5. Donald is the real-life husband of Carolyn Hennesy (Diane Miller) and previously appeared on GH as a biker in 2008, crossing paths with Alexis Davis (Nancy Lee Grahn) and Diane on their unexpected road trip.
Dakin Matthews appears as Judge Carroll on February 24. He was previously seen on ABC's Desperate Housewives as Reverend Sikes.
Jan Devereaux will play Iris beginning March 5.
Rick Overton starts airing on March 8.
THE YOUNG AND THE RESTLESS
Coming to Genoa City
Tricia Cast returns as Nina on February 16.
Corbin Bernsen returns to Genoa City as Paul's (Doug Davidson) brother, Father Todd Williams. He makes another appearance on February 16.
Beth Maitland will also be making another appearance in Genoa City on February 16 as Traci Connelly.
Contract News
Michael Graziadei (Daniel) is currently in contract negotiations with The Young and the Restless. The actor, who's been with the soap since 2004, only signed for one year during his last negotiations in 2009.