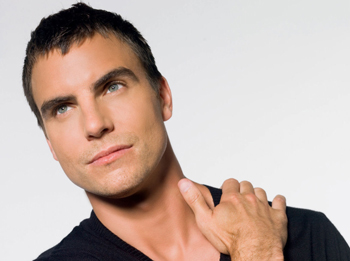 Colin Egglesfield will travel back to 1973 as William Walker.
It's one soap stud out, another in at ABC's Brothers & Sisters. E! Online is reporting that Colin Egglesfield (ex-Josh, AMC) may be replacing Daniel Cosgrove (Chris, ATWT; ex-Bill, GL). E!'s Kristin dos Santos is confirming that Egglesfield will be playing a younger version of a Walker family member in the show's two upcoming flashback episodes this April. Word is that Egglesfield will play the 1973 version of Tom Skerritt's philandering patriarch William Walker. Cosgrove was previously reported to be playing the role, however, E! Online is reporting that things fell through (most likely due to his contract with CBS) and Egglesfield is now calling the role his own.
Egglesfield was recently fired from the CW's freshman flop Melrose Place along with co-star Ashlee Simpson. Egglesfield will appear in one episode of Melrose Place when the series returns from its winter hiatus on March 9th. When we spoke to Egglesfield last September, he was excited about his role as Auggie on Melrose. When Egglesfield was let go this fall due to storyline dictation, it came as a complete shock as the actor had a multiyear contract with the show.
Egglesfield has previously appeared on such primetime series as Law & Order: Special Victims Unit, Gilmore Girls, Nip/Tuck, and Charmed. Egglesfield spent much of his acting career on daytime as Erica Kane's (Susan Lucci) son, Josh Madden, on All My Children. He debuted in 2005, taking over the role from Scott Kinworthy. Egglesfield left AMC in 2008. He briefly returned in 2009 so that Zach (Thorsten Kaye) could shoot Josh in order to keep Zach's wife and Josh's sister Kendall (Alicia Minshew) alive. Erica said goodbye to her infamously unaborted son as Kendall received his heart and awoke from her four month coma.
Look for Daniel Cosgrove to debut as Chris Hughes on As the World Turns on March 11th.
---
Follow TV Source on Twitter at @TVSource | Follow Tara on Twitter at @SourceTara