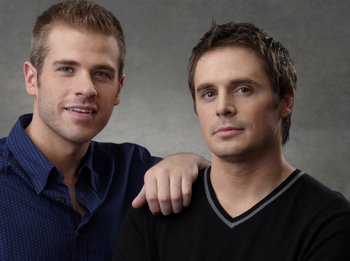 OLTL's popular same-sex couple Kyle & Fish will exit the canvas by mid-April.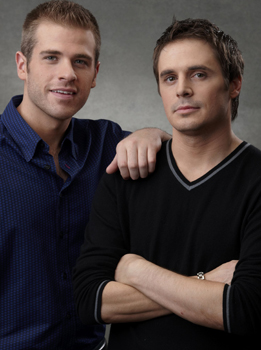 The revolving door at One Life to Live keeps on spinning. TV Guide's Michael Logan is confirming the rumors that actors Brett Claywell and Scott Evans who play same-sex couple, Kyle Lewis and Oliver Fish — dubbed by the fans "Kish,"are being written off the show.  According to Logan, they will be gone by mid-April. This is just the latest in a series of recent casting changes at the struggling soap. Earlier this week, it was confirmed that the show parted ways with Emmy nominee Scott Clifton (Schuyler Joplin).
According to executive producer Frank Valentini, "We are concluding the story that we set out to tell with Kyle and Fish. We are very proud to have broken new ground with a same-sex couple on daytime."
One Life to Live was recently honored with a nomination in the Outstanding Daily Drama category by the GLAAD Media Awards, which recognizes media for outstanding images of the LGBT community. According to Logan, the show grappled with dropping the duo as they have been well received by the show's gay fans, the gay media outlets and gay advocacy groups. Logan goes on to say that sources at ABC say the couple failed to resonate with the mainstream audience.
For the duo's exit storyline, Logan reports that fans can look forward to seeing Fish finally learn that he is the biological father of newborn Sierra Rose, whom he sired on a drunken one-night stand with stripper Stacy Morasco, played by the also recently fired Crystal Hunt. Kyle and Fish will start a new life with baby. The characters will not physically leave Llanview and because Evans' character Fish is a cop, he may pop up later in a "crime-related capacity"sometime in the future, but no promises are being made. In the coming weeks, One Life fans can also watch for current baby daddy Schuyler to not handle the news of Sierra Rose's true paternity so well.
Evans, who debuted as Officer Oliver Fish in January 2008, has refused contract offers with the show in the past and has previously remained on recurring status. He has previously appeared on the now defunct Guiding Light, Fringe, and Law & Order: Criminal Intent. In 2009, Evans also appeared in the film Confessions of a Shopaholic. Rumors of his exit from the show heated up recently when it was reported that Evans auditioned for a CBS pilot. However, recurring actors are not obligated to the show and are allowed to audition for other parts. Evans himself took to Twitter to clear up the rumors of his exit last Friday saying, "I have no plans to leave OLTL everyone. It's not even really in my hands!" It seems even Evans was caught unaware when the news broke today and followed up with another Tweet saying, "Anyone who thought my tweets were foreshadowing, that is not the case. Tweets were for something completely different. This is news to me."
Claywell joined the show in February 2009. Originally cast in the part of Schuyler, the role was originally re-tooled with Scott Clifton in the part, and Claywell debuted as lab tech Kyle Lewis instead. The North Carolina native has also appeared on One Tree Hill and Dawson's Creek.
Follow TV Source on Twitter at @TVSource | Follow Tara on Twitter at @SourceTara