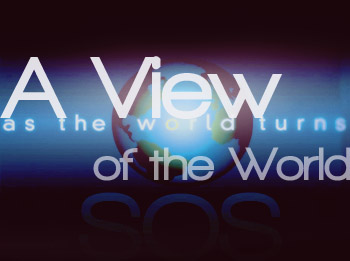 Soap-bashing is a very popular sport. We all do it, not only because it's fun and entertaining, but also because many times it's just so darned easy.  Soap operas, much as we love them, tend to be a bit over the top, and with frequently cheesy production values — an easy mark for mockery, for sure.
DISCLAIMER: The thoughts represented in this column are solely those of the author and do not represent the thoughts of TVSource Magazine, it's advertisers or its staff.
Soap-bashing is a very popular sport. We all do it, not only because it's fun and entertaining, but also because many times it's just so darned easy.  Soap operas, much as we love them, tend to be a bit over the top, and with frequently cheesy production values — an easy mark for mockery, for sure.
I'm just as guilty as the next guy of loudly jeering at ATWT when the occasion warrants, sometimes even when it doesn't. As a long-time viewer, it feels like my inalienable right to criticize "my" show.  And there have most definitely been periods when ATWT was downright ridiculously bad.  This is not one of those periods.
In fact, something strange and wonderful has happened in recent weeks and ATWT has once again become a really GOOD show.  Not just fair, and more than simply watchable, I'm talking about really and truly good, maybe even verging on excellent. There is a manner of good, intriguing and fun storylines happening simultaneously.  What's more, I'm enjoying almost every one, and how rarely can that be said?  Usually there's at least one or two (and maybe even more) storylines that are a giant yawn fest.  But currently, ATWT has grabbed me on almost every front and I'm loathing missing a single scene.
This bounty of great stories is topped by a couple of wonderful romances that are pure soap opera gold.  The Luke/Reid/Noah triangle is, pardon the hyperbole, turning out to be one of the best soap opera romances I can remember. I am delighted whenever it's a LuRe "day" and find myself analyzing every look and gesture between Luke and Reid (Van Hansis and Eric Sheffer Stevens). I almost wish I could freeze the screen during some of their moments together. They share a magnetism that I have bought hook line and sinker.  I look just as closely to see if Luke and Noah (Jake Silbermann) still pine for each other whenever those two share a scene.  I'm just completely on board for this storyline and it's my pleasure to congratulate the writers and execs for finally getting the 'gay' storyline right.
Similarly, the older woman/younger man plotline that is Barbara and Henry (Colleen Zenk Pinter and Trent Dawson) also has me glued to my seat.  But it's become so much more than just a cheap cougar on the prowl comedic sub-story. In fact, this has become a genuinely sweet and frankly powerful love story and I think its force and resonance surprised the writers and actors as much as it did me. I am utterly in love with watching those two being in love and I just want Henry and Babs to finally admit they belong together, once and for all. There is a palpable poignancy to their relationship that makes me want to cry almost every time they have a scene together.  That's a testament to some pretty superb acting between those two and I think Vienna's turn with Henry should be well and truly over.
Speaking of Vienna (Ewa da Cruz), the only little glitch I have with this story is Vienna sleeping with Casey.  That was so seemingly random that I was left scratching my head, although I believe there may be a reason for that apparent madness that has yet to be revealed.  In any event, I am a big fan of Billy Magnussen's Casey and believe he's hugely under-rated.  So I'm all for seeing some more of him in the few short months we have left.  Even if it means he winds up with Alison in the end, I'll grudgingly accept that.
And what of some of the other 'tent pole' characters of ATWT that need some resolution before the show is done?  For a few months, I'd been complaining that Craig (Jon Lindstrom) didn't have enough to do and that this central character was once again being wasted.  No sooner had that gripe left my mouth, than Gabriel (Ben Levin), Craig's never-known son, came to town.  While the storyline started rather weakly and confused, it's starting to gel now, with  involvement from several other veteran  characters, like Lily and Lucinda and Tom and Margo (Noelle Beck, Elizabeth Hubbard, Scott Holmes and Ellen Dolan), with even more legacy characters to come.  I'm now an invested viewer in this story's outcome and I have a feeling Craig may finally find his true and lasting redemption within it. If so, it would be a fitting and appropriate conclusion for the character and one that would leave me satisfied as a long-time fan.
Craig's half-sister, Katie (Terri Colombino), has also been floundering somewhat since husband Brad (Austin Peck) died and at first; her potential pairing with Chris Hughes (Daniel Cosgrove) didn't interest me.  I didn't detect any real chemistry between the two and thought it was grasping at straws by the writers and producers.  But the fabulous tribute to Lisa's (Eileen Fulton) 50 years in Oakdale provided a perfect, and most importantly, natural moment for a spark to ignite between the two.
During a recreation of Lisa's early years in town, Katie and Chris got to portray forbidden lovers Don Hughes and Lisa.  I'm forced to admit the kiss they shared, in character, was pretty hot.  For the first time, I saw the potential, and I'm now curious to see where they may end up. Again, it's a tribute to both the actors and the writers for turning a rather stilted beginning into a potential winner and avoiding soap opera disaster.
And finally, and of course, there's CarJack (Maura West and Michael Park).  I've made no secret of my long-time fondness for this couple, but their recent reunion has left me bewildered, although I think I finally understand where the writers may be heading with this.  At least I hope so.  Carly's recent deception to Jack, to protect Parker (Mick Hazen), may actually prove a clever writing device, if at its conclusion it allows Carly and Jack true unity. Because while Carly's lie may, at first, seem destined to once again break up Carly and Jack, I now think that it may eventually force Jack to realize his unyielding standards are impossible for mere mortals to abide by.  And if he desires truthfulness from Carly, he must also accept her when she tells him things he doesn't necessarily want to hear. At the same time, Carly may then, at last, be able to completely trust in Jack's love.  If I'm right, this storyline could be a very creative and satisfying means to CarJack getting their happily ever after.
That's not to say that all characters and stories are getting the attention and care they deserve and I don't see how they're going to all find the stories they so richly deserve before September. It's just not going to be possible.  I fear I will always wonder what could and should have been for many of the cast's veteran, and highly skilled, actors.
Even so I've only scratched the surface of what's truly right and good with ATWT during these twilight months.  The writers and actors have all brought their best games and we, the viewers, are reaping the rewards.  In a way though, this creative renaissance is a little painful, considering that we are about to lose ATWT forever.
If the show were this good a year or two ago, would it have still been canceled?  We may never know….
---
Follow TVSource Magazine on Twitter at @TVSource | Follow Karen Riel on Twitter at @karenriel | Facebook Fan Page
Send comments on this column and more to mailbag@tvsourcemagazine.com