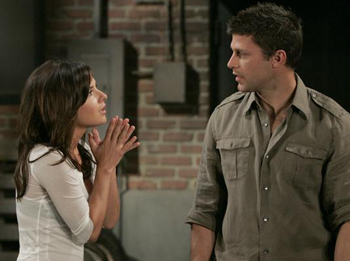 General Hospital's upcoming storylines for fall involve tales of love, adventure, scandal, violence and choices.
GH Fall Previews 2008

BY: Trish Mahon & NOEL D.
EDITING BY: DEE DONELLY


Sunday, August 24, 2008, 7:15 PM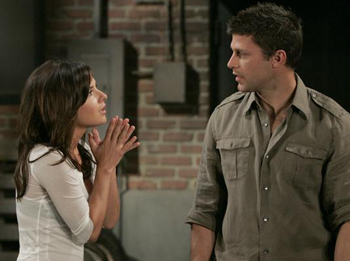 Sonny/Kate: There will be a wedding. The old Sonny will be resurrected when something happens at the wedding or in the aftermath. Sonny being kinder will be tested.
Jason/Karpov/Mob: Big umbrella story involving Spinelli, Maxie, Liz, and Carly and Jax surrounding the wedding. Jason's leadership is put to the test. Sonny and Jason will be in a conflict like never seen before.
Soprano City: Vincent Pastore plays Maximus, father of Max and Milo. Max is in trouble because he said he runs the family. Maximus develops a thing for Diane. First airs on 9/15.
Carly/Jax: They love each other but have been struggling. Carly can't help herself when it comes to Sonny and Jason and things will get worse before they get better. Jax goes back to his ruthless corporate side.
The Counterfeit Drug Tale: Another umbrella story. The prince and the farm girl get closer. Lucky and Sam will become the adventure couple. Spinnelli and Maxie have their own on and off romance and Matt will factor in. Matt has another connection in PC.
Lulu/Laura: Mother/daughter story and we will see if it is real or not. Luke will be involved when he gets back. The Spencers will end up in a new place after all of this.
The Zaccharas: Don't underestimate any of them or think you have them figured out. Anthony and Claudia will have new sides to them and Claudia will find out what happens when somebody gets to her.
Robin/Patrick/Anna/Noah: Patrick proposed; Robin said no. There are no plans for them to marry right now, but they will have to fight their way toward a future together. The baby will be born at the end of October.
Scott/Ric/Alexis/Jerry: Jerry pursues Alexis even more but does he have any ulterior motives? The jury will be key in Johnny's trial with a mix of old favorites and new ones.
The Q'S: Monica is sober and dealing with it. Edward will claim financial difficulty to get out of jury duty for the trial. He will have a large role in the trial.
trish.mahon@tvsourcemagazine.com | djsoapbubble@tvsourcemagazine.com