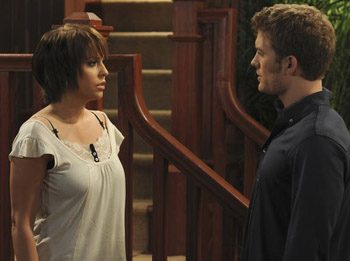 Gigi and Brody clash over telling Shane the truth.
OLTL Spoilers: Week of September 8

BY: JENNIFER SNYDER & OMAR NOBLES
NEWS EDITOR
Sunday, September 7, 2008, 7:05 PM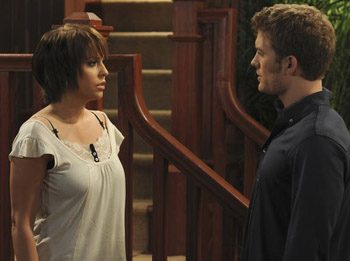 Natalie finds herself in trouble when Tess locks her up. Todd decides he needs a new place to live and makes plans to leave Llanview, he asks Marty to go with him. Blair realizes that John isn't over Marty. To keep Tina under control, Tess reminds her of the stolen diamonds that are safely kept in the safe. Rex is dismayed by Shane's rejection and goes to see Bo for advice. Dorian makes the arrangements to adopt Langston after she agrees. Sarah is concerned when it appears Cristian has disappeared.
Daily TVGuide Spoilers
Monday – Todd asks Marty to leave town with him. Tina is forced to cooperate with Tess. Shane doesn't want to be associated with Rex.
Tuesday – Natalie learns what's in store for her. Blair knows that John still has feelings for Marty. Sarah panics when she can't find Cristian.
Wednesday – Natalie knows she's in trouble. Jared finds Langston's uncle. Cristian's situation worsens.
Thursday – Carlo gets revenge on Cristian. Gigi lets Brody know she will tell Shane the truth. Tina tries to thwart Tess' plans.
Friday – Todd learns Marty can walk. Roxy consoles Rex. Langston agrees to let Dorian adopt her.
Week of Sept. 15
Ray has a surprise for Dorian. Tess shifts her plan to destroy Natalie & Jared into second gear. Tess is unaware of Tina's intentions.
jsnyder@tvsourcemagazine.com | onobles@tvsourcemagazine.com
Contribute content to TVSource Magazine Content: Fans wishing to send-in news items, previews, show recaps, interview recaps, or anything else newsworthy can now do, with any desired credit, via e-mail by CLICKING HERE.