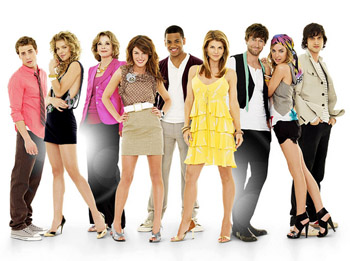 Three years ago, the CW network launched with a mix of left over series from the WB and UPN. While WB leftovers Smallville, Supernatural, and One Tree Hill held a steady audience, and shows like Gossip Girl (which debuted in 2007) generated buzz, the network had yet to have a breakout hit of it's own. After 3 years and no big hits, there was talk the CW might not be around next year. Would the CW be able to be able to change it's fortunes this season?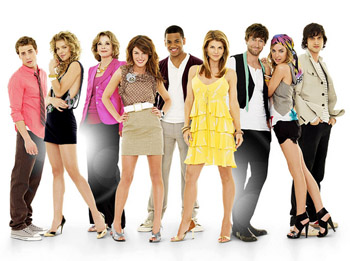 It's back! The CW's take off of the 1990 Fox hit Beverly Hills 90210 that is. This time the show dropped the Beverly Hills from the title. Instead opting for a sleek sexy simple and to the point 90210. So what was the show like?
Well to be honest, sleek, sexy, to the point, and yes even simple. No it's nothing new; it's not reinventing the wheel. However it is true to life (to a certain extent). In the first episode we saw sex, drugs, drinking, plagiarism, and a vindictive blog. You know typical teenage stuff. Yes the show's setting allows it to show 16 year old boys driving cars that cost more money than the house you live in and a couple jetting off to San Fran for dinner and back home before 10 on a school night. But this isn't a reality show; it's prime time teen soap opera.
And a teen soap opera it is. You see… Annie wanted Ethan and then became friends with his girlfriend Naomi who used her. That friendship ended. In the process of that Annie pissed off new friend Silver who in the end realized she didn't hurt Naomi like she wanted with her mean blog, she hurt Annie. Annie then aligned herself with Silver over Naomi and we found out Silver & Naomi were BFF's until Naomi spilled a secret that ruined Silver's life. Naomi's boyfriend Ethan cheated on her and Annie seen. Annie told her brother who told Naomi to get back at Ethan for telling a lie about him. Now Naomi wants Ethan back, Ethan wants Annie, and Annie ended up kissing some random boy she met. Then there was the drug addiction, the pigs, and a few other subplots and backstabbing I'm sure I missed.
Fans of the original also had reason to tune in. Kelly Taylor now works at West Bev as the school's guidance counselor. Her old frenemy Brenda Walsh came to see her – and her 5 year old son. Brenda & Kelly's scenes felt oddly simple. It just worked. Brenda even ended up babysitting to Kelly could go out with school's hot young teacher (played by Ryan Eggold). Next week offers more than the premiere did for fans of the classic, as Brenda ends up directing the school play and Kelly takes her alcoholic mother Jackie to task over failing as a parent to Silver, Kelly's little sister.
Was 90210 a mind blowing, fresh new exciting teen drama? No. But it was an amazing two hours of what you'd expect when you tune into a teen soap. It did an amazing job of setting up long term story arcs, such as the Naomi/Ethan/Annie triangle and the fact that Naomi's mom and Annie's dad have a son out there somewhere, as well as introducing everyone developing episodic sub-plots.
Tune into the new 90210 every Tuesday night at 8pm on The CW!
jpeyton@tvsourcemagazine.com