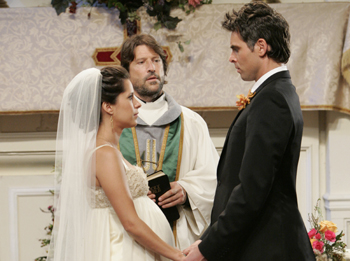 Robin and Patrick's wedding begins, but will it go off without a hitch?

GH Spoilers: Week of October 27

BY: JENNIFER
SNYDER
NEWS EDITOR
Friday, October
24, 2008,
9:55 PM
Check Out Our Scrubs Wedding (Part I) Gallery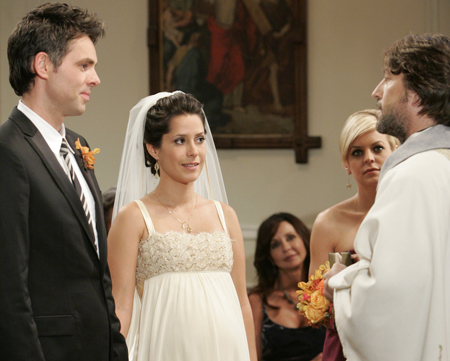 Wedding Bells Ring in Port Charles
Robin, Maxie, and Spinelli work diligently on wedding preparations while
Patrick escapes to the hospital to take care of his patients. After a
fortuitous encounter with Olivia, Patrick comes to realize he is the luckiest
man in the world to be marrying Robin. While Patrick is at the hospital
doing rounds, Anna and Robin share a mother/daughter moment while preparing for
the ceremony. When Anthony is rushed to the hospital, Patrick jumps
into action as he and Matt prepare for surgery. Robin, Maxie and Mac
arrive at the church and interrupt a stolen moment for Jason and Elizabeth.
Spinelli has been on the hunt for Patrick and reports back to Robin that he is
no where to be found. Everyone assumes Patrick has gotten cold feet, but
Robin is confident Patrick will not leave her standing at the alter. Matt
and Patrick finish up Anthony's surgery and then a panicked Patrick rushes to
the church hoping to make it in time for his wedding to Robin. The groom
makes it to the wedding and as the ceremony begins, an unexpected guest makes
their presence known as Robin's water breaks.
In the hopes of having Laura fall in love with him again, Scott plans to take
her on a trip down memory lane as they head to Los Angeles, the place where they
honeymooned when they were married. Scott confess he is the one who killed
Rick Weber and framed Laura for the murder. Laura wonders why Scott can't
find any sympathy and understanding for Lulu who is in a similar situation.
After hacking into Scott's financial records, Luke discovers he has taken Laura
to Los Angeles. Scott and Laura reminisce about the life they once shared
together, and Laura admits she too had made mistakes when they were together.
Laura tells Scott she has regrets and never wanted to hurt him by marrying Luke.
When Laura tells Scott she is still very much in love with Luke, Scott reveals
the shocking truth about Luke being married to Tracy. Luke and Tracy catch
up with Scott in Los Angeles, and Luke is reunited with Laura.
Port Charles Happenings….
Luke
and Tracy find themselves in a situation when they make a daring escape by
stealing a plane from a group of drug smugglers and in mid air, run out of fuel.
Nikolas and Nadine confess their true feelings for each other, while Lucky and
Sam can't seem to move forward in their relationship. Jason struggles with
the unexpected outcome if Sonny and Claudia do marry. Claudia enjoys
taunting Kate with the news of she and Sonny joining in holy matrimony.
Olivia chases off Claudia and later lashes out at Sonny for again, breaking
Kate's heart. Anthony suffers a stroke while arguing with Claudia.
Nikolas, Lucky, and Lulu are told about the past Laura and Scott share.
Can't Miss…..
Scott has hopes of making Laura fall in love with him all over again on
Monday, October 27.
Ric makes a request to Sonny, not to involve Claudia in his plans with
Anthony on Tuesday, October 28.
Johnny tries to help Anthony while Claudia stands by and does nothing on Wednesday, October 29.
Lesley shares Scott and Laura's past with Nikolas, Lucky and Lulu on Thursday, October 30!
Jason and Sam find themselves in danger on Friday, October 31.
Next week on General Hospital…
Scott takes Laura on a trip down memory lane with Luke hot on their heels.
Sam discloses what she's been up to, to Jason. The health of Robin's baby
is in jeopardy. Sam falls into Jerry's deadly trap. Luke has a life
changing decision to make when Laura makes him choose between her and Tracy.
Sonny accuses Carly of holding on to what they had and not being able to let go.
Robin's life hangs in the balance and her loved ones pray for a miracle.
---


TVSource Magazine wants to know what you fans think in both primetime and daytime. Like/dislike a storyline or pairing on your screen? Do you want a fan favorite to return? Do you love/hate a character and/or their actions? Have a campaign you want to highlight? Send us your thoughts, opinions and suggestions to be printed in the TVSource Mailbag to: mailbag@tvsourcemagazine.com
---
Discuss this news and more at the TVSource Magazine Message Board. Click HERE to visit

Contribute content to TVSource Magazine Content: Fans wishing to send-in news items, previews, show recaps, interview recaps, or anything else newsworthy can now do, with any desired credit, via e-mail by CLICKING HERE.