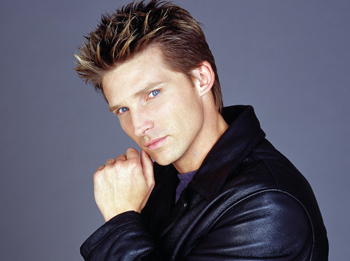 A father attempts a daring rescue to save his son.

GH Spoilers: Week of December 1

BY: JENNIFER SNYDER|SENIOR EDITOR
Wednesday, November 26, 2008,
3:25 PM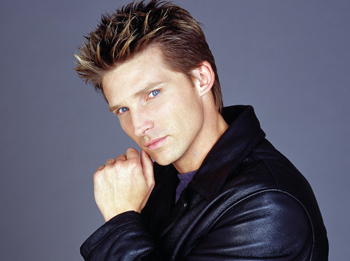 "Jason! You go find my baby!"
Jason and Sam take chase to track down Jake who has been taken by the Russian mob. They follow them to an abandoned mine, and after searching feverishly for Jake, Sam and Jason realize Jake has been moved to another location. But before they can climb out of the mine, they are trapped by a cave in. Back at home, Elizabeth is relieved when Lucky arrives at the cabin. She tells him he was right all along about Jason and how dangerous it is to be with him or associated with him. Elizabeth blames herself for putting Jake in danger. Sasha tells Elizabeth she has only herself to blame for Jake's kidnapping and then informs the Russian syndicate to kill Jason on sight if he attempts to rescue Jake. Meanwhile, Jason and Sam manage to dig themselves out of the caved in mine shaft. Spinelli tells Jason and Sam of Jake's whereabouts. They go to the roadhouse location and discover Jake is indeed there with the Russian syndicate. Sam and Jason come up with a plan to rescue Jake, and Sam infiltrates the roadhouse. When chaos breaks out inside the roadhouse, Jason makes his move to rescue his son. Jason watches as the roadhouse goes up in flames due events that have taken place between he and Sam, and the syndicate.
The Old, the New and the Ex
Carly lashes out at Kate and warns her, she is going to make her life miserable because she (Kate) slept with Jax. Carly goes to Trevor and tries to recruit him to join forces with her against Kate. After Carly leaves, Trevor contacts Kate and tells her of Carly's plans to get even with her. Kate wants to hurt Sonny in the worst possible way and tries to convince Olivia to expose Dante as Sonny's child. To spite Carly, Kate plans to throw a party at Crimson to show off her and Jax's new found relationship. But it's Carly who gets the upper hand at the Crimson party.
Motherhood Is Frustrating for Robin
Robin having a tiring day with her daughter, when Emma's crying doesn't stop after Robin tries everything to calm her, frustration over the situation sets in. Epiphany sends Patrick home after a long and drawn out surgery because she notices he is obviously out of sleep. When Patrick gets home, Emma is still crying and Robin is overwhelmed with the situation. Robin is even more frustrated when it Patrick stops Emma from crying almost immediately. Robin decides to go back to work and leaves Emma in the care of Patrick and Matt. At the hospital, Dr. Kelly diagnosis Robin with Post Partum Depression. When Elizabeth's grief over the kidnapping of Jake becomes apparent to Patrick, he lends her a shoulder to cry on.
An Aunt's Dying Wish
After Nikolas' meeting with Carly, he receives a phone call from a distraught Nadine. Nadine introduces Nikolas to her Aunt Raylene who decided to come to Port Charles for a visit. Her aunt begins to question Nikolas' intentions towards her niece. Nikolas tries to explain it's not necessary for he and Nadine to marry in order to keep him from being deported. Aunt Raylene drops a bombshell on her niece and tells them it's her dying wish that Nadine get married. To appease her aunt and fulfill her wish, Nikolas and Nadine decide to get married, but not before Aunt Raylene tells Nikolas she doesn't believe Nadine could survive another broken heart.
Elsewhere in Port Charles….
Sonny seals the deal with Anthony and doesn't waste any time trying out his new found empowerment. After being harassed by a cop, Johnny unleashes his anger by punching him out and then taking off with Lulu. Monica, Edward and Alice have had it with Tracy's attitude and plea to Luke to move back into the family mansion. Tracy doesn't take to kindly to the ploy and announces she is flying to the Dominican Republic for a divorce. Johnny informs Sonny he wants nothing to do with the family business and wants out of the mob. Diane is not happy to learn Sonny married Claudia and tells him she is no longer his legal counsel. Luke finds himself in a mess when he follows Tracy to the Dominican Republic and tries to convince her, he is over Laura.
Can't Miss …
Carly tries to recruit Trevor to join forces with her against Kate on Monday, December 1.
Kate is on the verge of exposing Olivia's secret in order to hurt Sonny on Tuesday, December 2.
Robin is frustrated when Patrick's fatherhood skills are shown with a crying Emma on Wednesday, December 3.
Johnny tries to convince Claudia to divorce Sonny because he's afraid the truth about Michael's shooting will be discovered on Thursday, December 4!
A grief-stricken Elizabeth acts out on Friday, December 5.
Coming Soon: Week of 12/08…
Amidst a dangerous situation, Sam jumps into action and saves the day. Olivia finds herself in the wrong place at the wrong time. Sonny lays down the law with Claudia and Ric. Jason blames himself for putting Jake in danger. Sonny sets his eyes on vengeance for the attack on Olivia. Jax confesses he still has feelings for Carly. Sudden changes in Sonny makes Claudia suspicious. Jason and Elizabeth seal the fate of their relationship. Sonny tries a different approach to manipulate Claudia. Maxie and Lulu make unlikely roommates.
If you copy and paste our spoilers, please credit TVSource Magazine and/or provide a link back.
---
Discuss this news and more at the TVSource Magazine Message Board. Click HERE to visit
Contribute content to TVSource Magazine Content: Fans wishing to send-in news items, previews, show recaps, interview recaps, or anything else newsworthy can now do, with any desired credit, via e-mail to news@tvsourcemagazine.com.