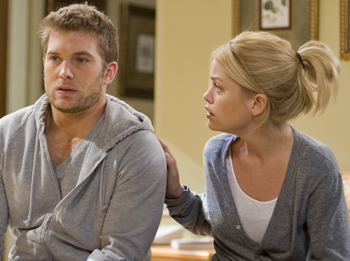 Jessica (Bree Williamson) and Brody (Mark Lawson) confess their sins to each other.
Confessions are good for the soul.
Natalie gets a wake up call in the form of Jessica's confession that Tess's reemergence was deliberate. Jessica wanted Jared and Natalie to die! Natalie can't just forgive and forget and Viki worries that her daughters' relationship may never recover. Jared and Natalie take some time for one another, leaving eager Marcie to babysit, but then she and Michael reflect on all they have lost. Bess tells Tess everything about the night her baby died and convinces Tess that Jessica is too fragile to know the truth. Their work is done (according to Bess), and she says it's time they leave Jessica to heal and care for her children. Jessica shares her experiences at the vineyard with Brody who tries to convince her she is not like Tess. Brody reveals his own devastation at learning he shot and killed an unarmed child.
I don't use drugs, my dreams are frightening enough.
Bo and Nora inform the vice principal at Matthew's school that he purchased a joint when he was supposed to be matriculating. Starr covers for Cole when the vice principal catches her with drugs. An ungrateful Cole responds by popping another pill. Rex surprises Gigi by booking the Plain White T's at Ultraviolet. Matthew disobeys his parents by sneaking out to Ultraviolet for the performance, and to impress a girl. Bo promptly discovers Matthew and drags him away. Matthew swipes Cole's stash. Starr confides in Langston.
When the going gets weird, the weird turn pro
Antonio blocks Tea from questioning Schuyler. Schuyler defends his mother to Antonio, but afterward muses over a letter he received from her before her death. Vanessa panics when she finds the letters Ray has written Lola. Lola wants to talk to Tea and Tea is eager to listen. Vanessa confronts Lola about the letters. David challenges Dorian to live up to her claim of achieving total enlightenment. Dorian, in turn, stuns Moe with her announcement. Delphina gives Noelle the creeps with her ominous premonition.
Can't Miss …
Wes recounts the events in Iraq and Brody mourns the innocent life he took on Monday, January 19.
OLTL will preempted for the inauguration coverage on Tuesday, January 20.
Tea warns Todd he's not clear yet on Wednesday, January 21.
Gigi and Rex enjoy a night of romance on Thursday, January 22.
Bo and Nora make a deal with Lee, who winds up in a precarious situation when she goes to see Todd on Friday, January 23.
Coming Soon: Week of 1/26
Tea helps Todd out of a jam, Cole continues to tumble, Dorian remains determined to have her way. Dorian changes tactics, Bess struggles with Tess, Tea drops a bomb on Starr. Tea plays on Starr's guilt, Natalie can't get past what Jessica has done, Rex saves David from Dorian's latest ploy. Todd and Tea attack Lee's credibility, Marty wants answers from Lee, Starr takes the stand at Todd's trial. Natalie has it out with Jessica and Tea makes a shocking discovery.
---
If you copy and paste our spoilers, please credit TVSource Magazine and/or provide a link back.