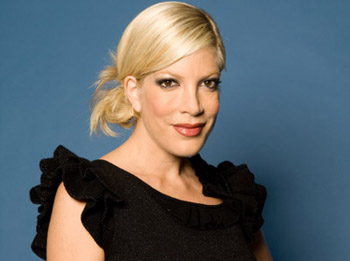 Will she or won't she? That was the question that many people have been asking Tori Spelling about joining 90210.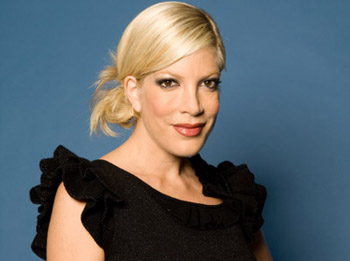 Will she or won't she? That was the question that many people have been asking Tori Spelling. Will she bring her character Donna Martin Silver back to the halls of West Beverly High anytime soon? Well, after many, many months of negotiations it seems that the answer is yes. Tori Spelling is in final talks with the show. All that's left is for a deal to be hammered out and we'll soon see Donna Martin-Silver on 90210! Spelling joins Shannen Doherty (Brenda Walsh) and Jennie Garth (Kelly Taylor) as another of the original Beverly Hills 90210 cast members to make her way to the spinoff hit 90210.
When we last left Donna Martin, she just married her true love David Silver (Brian Austin Green, who won't return anytime soon seeing as he is a series regular on FOX's Sarah Connor Chronicles). Though off-screen, Donna still has ties to the West Beverly crowd.  Her sister-in-laws Silver (Jessica Stroup) and Kelly reside and are featured regularly on the program.  Donna returning wouldn't be out of the ordinary, or random. Rumor has it there is a storyline in place for her, but the show is keeping mum on what it is. I don't know about the rest of you, but in the many years since we have seen Donna and David, I want them to be happy and healthy with lots of kids!
Tori, the daughter of the late great uber-producer Aaron Spelling, won many fans over with her portrayal as the virginal Donna Martin. Donna was one of the characters that we literally watch grow up before our eyes. From the first seasons when she was just a friend to Kelly and Brenda and her many questionable clothing choices to a young woman who married her true love, Donna has done it all. She was a weather girl, she took down sweatshops, and she designed her own line to opening her own store with Kelly. She was attacked, almost raped, stalked and abused throughout her time on the original series. We saw her date David, Ray, Joe and back to David. And who can forget the classic 90210 episode, "Donna Martin Graduates"!
Spelling is right now filming a spot for the CW hit Smallville. Reports are saying that if or when she returns, it will be around the nineteenth episode. She will appear for multiple episodes. Stay tuned to TVSource Magazine for more details.