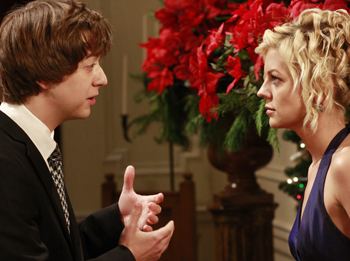 Contestants on ABC's The Bachelor will pay a visit to the set of General Hospital.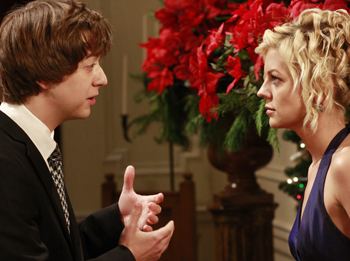 ABC's primetime hit series The Bachelor pays a visit to ABC's Los Angeles based soap "General Hospital" when female contestants act out their fantasies with this season's hottie, Beachelor Jason Mesnik. The ladies will be taught the fine art of on screen kissing by "General Hospital" fan favorites Kirsten Storms (Maxie Jones) and Bradford Anderson (Spinelli).
TVSource Magazine's Dynamic Duo of 2008 are currently involved in a storyline surrounding an FBI investigation of local mobster Jason Morgan (portrayed by Steve Burton) and his criminal organization in Port Charles. Spinelli was recently targeted by the FBI as a way to get to his friend and employer Jason. Spinelli met his own female jackal in the form of Winifred, known as "The Priestess." Maxie suspected there was more to Winifred than what Spinelli thought and set out to protect her friend. Unfortunately Maxie's methods didn't sit to well with Spinelli and the two got into a huge fight. When Maxie later tried to make things right, she witnessed Spinelli being arrested by the FBI!
The episode of "The Bachelor" featuring Kirsten and Bradford will air on Monday, January 26 at 8PM EST on ABC. General Hospital airs weekdays at 3PM/EST on ABC.