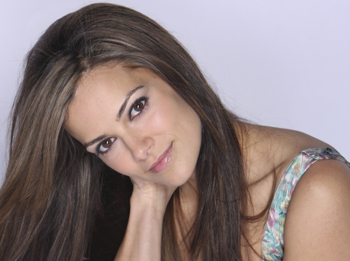 Rebecca Budig heading to CBS' How I Met Your Mother.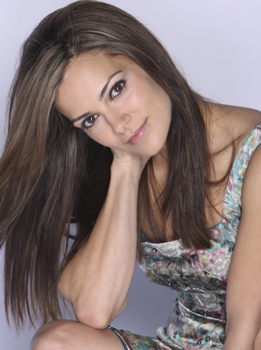 Fresh off her Evel Knievel cliff jumping end as the "Real Greenlee" on All My Children, Rebecca Budig has booked a gig on CBS' cult phenomenon sitcom, How I Met Your Mother.  Daytime Confidential's Jamey Giddens broke the news over the weekend that the sexy soap siren regretted that she would be missing her husband's Rock the Soap cruise in order to film a guest gig on the popular sitcom.
Mrs. Bob Guiney will play Holly, a new girlfriend of Ted's (Josh Radnor), in one of the season's final episodes.  According to TVGuide.com's Matt Mitovich, Budig's appearance will set the stage for a small tease about the ostensible Mother's identity.  At the end of Budig's HIMYM episode, Ted will reveal something he did very soon after meeting the woman who eventually becomes the Mother that the show's title refers to.  That person could easily turn out to be Budig's character, Holly, or it could be one of the other multitudes of ladies Ted has already dated.
Budig, who just finished a one-year arc this February as Greenlee Smythe on All My Children, opted not to green-light her one-year option with the daytime serial. Budig and Guiney settled in Los Angeles, where Mother is filmed, shortly after Budig wrapped up her first run as Greenlee in 2006.
Budig began a career in soaps in 1995 as Michelle Bauer on Guiding Light.  After leaving GL in 1998, she headed to All My Children to play the feisty Greenlee Smythe in 1999, where she remained until 2005.  She returned to All My Children in January 2008 with much fanfare and controversy. ABC Daytime chose to market her return as "The Real Greenlee Returns," while then Greenlee recast, actress Sabine Singh, was still on the show.
The last time Budig left AMC, it was to spread her wings outside of the daytime world. With this latest primetime gig, it's clear that Budig is wasting no time pursuing projects outside of daytime.  Hopefully with this news and Budig's no-compete clause in her AMC contract, it will finally put to bed all of those Brenda Barrett recast rumors that have plagued GH fans for years.