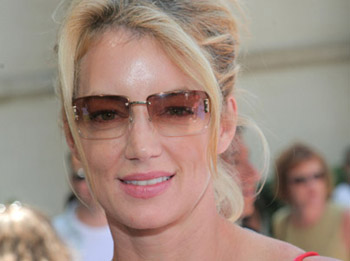 Emmy winner Cynthia Watros (ex-Annie, Guiding Light) close to signing a deal to star in the new "Gossip Girl" spinoff.
Last week, soapoperasource.com told you that Brittany Snow (ex-Daisy, Guiding Light) would be headlining the still yet-to-be-titled Gossip Girl spinoff to air this fall on the CW as wild child Lily Rhodes (future Mrs. Van der Woodsen-Bass).  This week, TVSource Magazine is glad to tell you Guiding Light alum will be starring in the series… as Lily's mother, CeCe Rhodes.  Emmy winner Cynthia Watros (ex-Annie, GL) is on the verge of signing a deal to play the controlling, upper cruster mother to Snow's Lily according to Entertainment Weekly's Michael Ausiello.  Soap fans will remember Watros' flawless performance as her Annie Dutton went toe-to-toe against arch rival Reva Shayne (Kim Zimmer) during the mid-90s. 
Lost fans will remember her as psychologist Libby, who was shot dead at the end of the show's second season amid the real life scandal of Watros' drunk driving arrest with co-star Michelle Rodriguez in Hawaii, where the show was filmed.  Since Lost, Watros has filmed a dead-in-the-water pilot for CBS opposite Tom Cavanaugh and she has guest starred on Law & Order: Criminal Intent and The Bill Engvall Show.  Recently, Watros lent her voice to an episode of Fox's hit animated show Family Guy.
Watros will be joined by Andrew McCarthy (ex-Joe, Lipstick Jungle) as father to Lily and husband to CeCe.  The Pretty and Pink star will play Rick Rhodes, a music label executive and frustrated parent to the troubled Lily and her sister Carol (Krysten Ritter).  Yep, that's right, 80s children.  80s icon Andrew McCarthy is heading back to the decade of leg warmers and teased coifs to play the "dad" role!  Now don't you feel old?
In other casting news, Ryan Hansen (Friday the 13th), will be joining the cast as Shep, friend to Owen (Shiloh Fernandez) the valley kid with his heart set on Carol.  From all we keep hearing about this spinoff, it is shaping up to be the first new show on our DVR this fall.