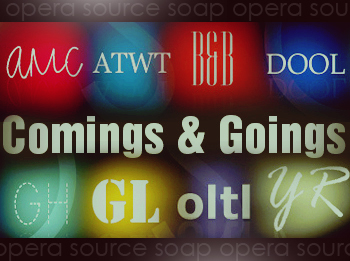 Daytime's coming and goings for the week of April 20, 2009.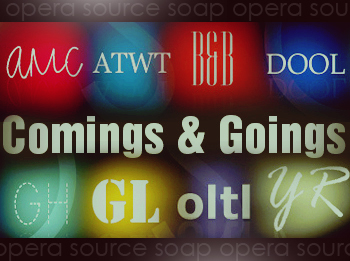 The revolving door of Daytime is forever swinging and in the most recent weeks has been no exception. Newcomers, welcomed returns, and cameo appearances grace daytime screen in the coming months. How will these comings and goings effect your favorite show? You will have to tune in to find out!
All My Children's Comings and Goings
Coming to Pine Valley
Jennifer Bassey reprises her role of Marian Chandler, Liza's mother (Jamie Luner). Her first airdate is not known at this time. On April 21, Thomas Galantich debuts as Dr. Chappell. He previously portrayed Dr. Swan on ATWT in 2005, and as Mark Casey on OLTL from 2006-07. On April 28, Ronald Gutten portrays Zach's serial killer father, Alexander Cambias, Sr. According to May Previews from Soap Opera Digest, Cambias is writing a tell all book from prison and confesses he did not kill Dixie. Tad will get involved to find out who really did kill Dixie.
Eden Riegel returns to Pine Valley on April 24. Biance and Reese (Tamara Braun) resolve their relationship issues and reconcile, only to leave Pine Valley, together, on April 29th.
As The World Turns Comings and Goings
Coming to Oakdale
Cady McClain (Dixie, AMC) is returning to As The World Turns on May 20!
Ed Fry will be appearing as Alison's (Marnie Schulenburg0 father. He arrives in Oakdale in May.
Days of Our Lives Comings and Goings
Coming to Salem
The Dimera's have a new guard, Marco. Steve Bruns first appears on April 23rd when he has a run in with Nicole (Arianne Zucker).
General Hospital Comings and Goings
Coming to Port Charles
Drew Garrett will be taking on the role of Michael Corinthos III, the son of mob boss Sonny Corinthos (Maurice Benard). Though Michael will not awaken until May sweeps, fans will get their first glimpse of the older Michael when Garrett debuts on April 24th.
Leaving Port Charles
Sebastian Roche will be making an explosive exit on April 24
Constance Towers is making her exit on April 21st as her short stint in Port Charles comes to an end.
Guiding Light Comings and Goings
Coming to Springfield
Zuzanna Szadowaski makes an appearance on April 24th as a Bosnian nun to give Dinah (Gina Tognoni) some shocking news.
One Life to Live Comings and Goings
Returning to Llanview
Tuc Watkins will be returning to his role of David Vickers. According to Soap Opera Digest, David returns to Llanview on April 22 and 23rd to repair what is broekn with his wife Dorian (Robin Strasser).
Kamar De Los Reyes will return to Llanview as Antonio Vega, for Talia's (Beth Ann Bonner) funeral. He will also help out John McBain (Michael Easton) while he's in town. Antonio Vega returns to Llanview in the coming weeks.
Also returning to Llanview is RJ Gannon as Timothy D. Stickney reprises his role. RJ turns up in town on April 23rd.
The Young and the Restless
Coming to Genoa City
Karen Hensel makes a return appearance as Sharon's (Sharon Case) mom, Doris Collins, on April 22nd.
Bryton McClure
(Devon) has been taken off contract and is now on recurring status.