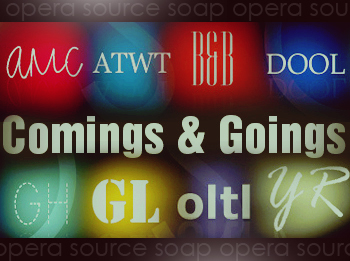 Daytime's coming and goings for the week of May 11, 2009.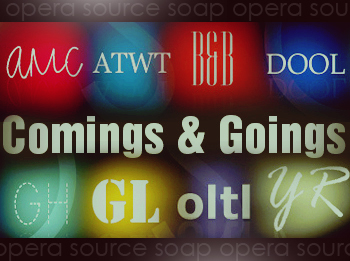 The revolving door of Daytime is forever swinging and in the most recent weeks has been no exception. Newcomers, welcomed returns, and cameo appearances grace daytime screen in the coming months. How will these comings and goings effect your favorite show? You will have to tune in to find out!
ALL MY CHILDREN
Coming to Pine Valley
Amanda Baker returns to Pine Valley as Babe Chandler, the deceased daughter of David and Krystal Hayward (Vincent Irizarry and Bobbie Eakes). It is not known if she returns as a ghost or in some sort of dream sequences. Her scenes will air in late May or early June.
Leaving Pine Valley
Thomas Galantich (Dr. Chappell) will making a surprising exit on May 8th.
AS THE WORLD TURNS
Coming to Oakdale
Ed Fry (Larry McDermott) will return to the show on Monday, May 25. How will Alison (Marnie Schulenberg) react to her father's return?
THE BOLD AND THE BEAUTIFUL
Coming to Los Angeles
Drew Tyler Bell (Thomas Forrester), Ridge's (Ron Moss) son makes a return on May 7th and 8th.
DAYS OF OUR LIVES
Coming to Salem
Gordon Thompson will appear as Owen's (Wes Ramsey) father, Walter Kent. He appears in Salem in the coming weeks.

Leaving Salem
Rachel Melvin (Chelsea Brady) will heading to London.
John Callahan (Dr. Baker) will be leaving the canvas next week.
GENERAL HOSPITAL
Coming to Port Charles
Emma Samms will return to Port Charles as Holly Sutton. Samms returns on May 15th.
GUIDING LIGHT
Coming to Springfield
WTSP-TV reporter David Leonard plays a bartender who serves drinks to Dinah (Gina Tognoni), Shayne (Jeff Branson), Remy (Lawrence St. Victor) and Christina (Karla Mosley) on Monday, May 4.
Nancy St. Alban and Paul Anthony Stewart reprise their roles as Michelle and Danny Santos in late May. After almost 4 years away from Springfield, how will they adjust to the new landscape in town?
Former "One Life to Live" actress BethAnn Bonner has joined in a yet unnamed role.
ONE LIFE TO LIVE
Coming to Llanview
Erik Martin Brown will portray Stan, Stacey's boss from Las Vegas. He tracks her down and appears in Llanview on May 6th.
David Forsyth returns as the priest when he appears in dream sequences and performs a marriage ceremony for Gigi and Rex on May 5th.
Jackie Hoffman, the comedienne appears as Eunice on May 11.
The Young and the Restless
Coming to Genoa City
Jerry Douglas makes a return appearance as the deceased John Abbott on May 5th. He appears to his son Billy and gives him sound advice.
Nia Peeples returns as Karen, Neil's wife on May 14th. Given the actress' recent comments we're sure it won't be a long stay.
Della Reese makes a special appearance in Genoa City as Devon's aunt. She visits Genoa City on May 18th.