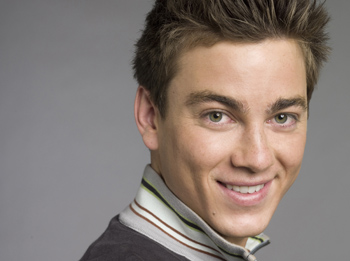 Cole's undercover operation is exposed
{xtypo_alert}Did You Know? TVSource Magazine has an official fanpage and group on Facebook!
We're also available on Twitter! Follow us to receive news, spoiler and gossip alerts.{/xtypo_alert}
Cole's Life is in Danger
John gets a warrant to place Mayor Lowell under surveillance and plants a bug in his office. Todd witnesses Cole selling drugs to Justin and takes a picture with his cell phone. Cole tips John off that Justin purchased drugs, and John arrests Justin to prevent him from using the drugs. Justin confesses to Mayor Lowell that Cole sold him the drugs. Todd confronts Starr with the picture, and threatens to turn Cole in if Starr doesn't break things off with Cole. Unaware that Dorian is eavesdropping, Starr tells Todd that Cole is working undercover, and pleads with him to keep the operation under wraps. Todd remains concerned for Starr and Hope's safety and promptly heads straight to Mayor Lowell. John publicly arrests Cole and places him in a holding cell for his own safety. Dorian unwittingly exposes Cole's undercover operation to Mayor Lowell. John and Fish overhear Mayor Lowell order Keaton to kill Cole, but John gets to Cole in the nick of time. Sergei targets Starr and Hope.
Blair and Ross Plot Against Todd and Tea
Blair is stunned to learn that Ross and Tea are married, but quickly recovers and offers to drop criminal charges against Ross if he will return with her to Llanview to help her tear Todd and Tea apart. After Todd presses Tea for an answer to his proposal, she calls Ross. When Ross informs Blair of Todd's marriage proposal, she tells him to inform Tea that he will give her a divorce. Tea is thrilled when Elijah presents her with signed divorce papers, unaware that she is being set up by Blair. Tea makes excuses to Todd why she can't wear his ring publicly yet and slips it on a chain to wear around her neck.
ELSEWHERE IN LLANVIEW
Fish admits he is gay to Cris and Layla, who urge him to tell his parents, but Fish insists that is not possible. Fish learns his parents are on their way to Llanview. Mathew's court case proceeds. Tea scores points for Matthew, but Elijah regains the upper hand. Tea shreds Rachel on the witness stand, sending her from the courtroom in tears. Greg goes after Rachel and their passion erupts in a kiss. Viki challenges Mayor Lowell to a debate.
CAN'T MISS…
Ross reveals he and Tea are married, and Fish comes clean about his struggles with his sexuality on Monday, August 31.
Todd sees Cole selling drugs, Tea accepts Todd's marriage proposal, and Cris and Layla urge Fish to be honest with his parents on Tuesday, September 1.
Todd presents Tea with an engagement ring. Dorian overhears Starr telling Todd about Cole's undercover operation on Wednesday, September 2.
Dorian exposes Cole to grave danger. John and Fish overhear Lowell ordering Keaton to kill Cole. Rachel can't control her temper during Greg's testimony on Thursday, September 3.
Rachel and Greg kiss. Nora and Tea are held in contempt of court and share a cell. Carlotta comes to a mistaken conclusion about Cris, who is surprised by her reaction on Friday, September 4.
COMING SOON: Week of 9/7
Blair reveals the next part of her plan. Stacy gets a miracle. Rachel examines her feelings for Shaun and Greg. Shaun is wounded, perhaps fatally, while protecting Starr, Todd and Hope.
© 2009 TVSource Magazine. All rights reserved
Please credit TVSource Magazine and provide a link back if you copy & paste our spoilers
---