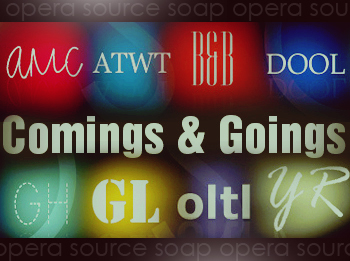 Daytime's coming and goings for the week of September 7, 2009.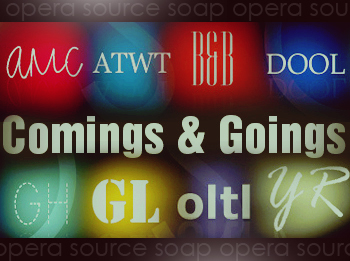 The revolving door of Daytime is forever swinging and in the most recent weeks has been no exception. Newcomers, welcomed returns, and cameo appearances grace daytime screen in the coming months. How will these comings and goings effect your favorite show? You will have to tune in to find out!
AS THE WORLD TURNS
Coming to Oakdale
Alexandra Chando returns as Maddie Coleman, Henry's (Trent Dawson) sister. She returns to Oakdale on September 23.
Lesli Kay returns to Oakdale as Molly Conlan. Lesli is currently on The Bold and the Beautiful as Felicia Forrester and will appear on both soaps simultaneously.
Tamara Tunie returns as Jessica Griffin. Tamara last appeared on ATWT in 2007. She makes her return to Oakdale in October.
Maura West returns to the show after being on maternity leave. She returns as Carly Tenney in September.
Leaving Oakdale
Austin Peck
leaves his role as Brad Snyder. He joined the show in 2007.
DAYS OF OUR LIVES
Leaving Salem
John Callahan
(Richard Baker) is leaving Salem. Rafe (Galen Gehring) finds his dead body during the week of September 7.
Kevin Spirtas
exits his role of Kevin Wesley on September 4.
GENERAL HOSPITAL
Coming to Port Charles
Irene Roseen
will be portraying fortune teller, Ramona. She previously played Madam Lore on Y&R in 2000. She debuts as Ramona on September 4.
Valerie Wildman
comes to Port Charles as Diedre, a friend of Edward's (John Ingle). She previously played Fay on Days of Our Lives. Diedre comes to town on September 3.
THE YOUNG AND THE RESTLESS
Coming to Genoa City
Wilson Bethel
returns as Ryder. Kevin (Greg Rikaart) receives some surprising news about Ryder on September 4.
Beth Maitlin
will portray Traci Connelly, Ashley's (Eileen Davidson) sister. She will appear in Genoa City on September 3, 4, 9 and 10.
Byrne Offutt
will appear as Dean Hunt, the dean at the University who clashes with Colleen, who applies for a job at the University. He appears on September 2.