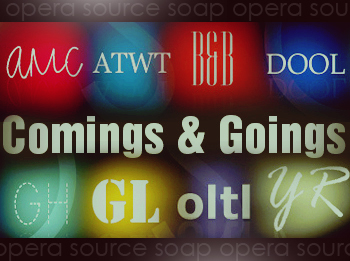 Daytime's coming and goings for the week of August 25, 2009.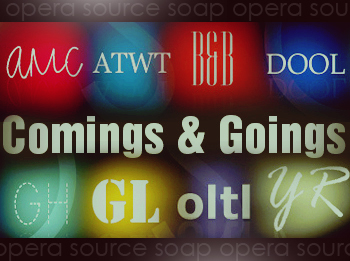 The revolving door of Daytime is forever swinging and in the most recent weeks has been no exception. Newcomers, welcomed returns, and cameo appearances grace daytime screen in the coming months. How will these comings and goings effect your favorite show? You will have to tune in to find out!
ALL MY CHILDREN
Coming to Pine Valley
Anna Koonin is returning as David's (Vincent Irizarry) lackey, Nurse Gayle. She unexpectedly pops up on August 21.
THE BOLD AND THE BEAUTIFUL
Coming to Los Angeles
Ian Buchanan arrives in Los Angeles as Dr. James Warwick on August 17. The shrink is called to be mediator between Brooke (Katherine Kelly Lang) and Taylor (Hunter Tylo).
Lisa Canning will be portraying a news anchor woman named Chanel. Formerly Adrienne on Y&R, Lisa begins her new role on August 19.
GENERAL HOSPITAL
Leaving Port Charles
Martha Byrne will be exiting her role of Andrea Floyd, the mayor's wife. Her dramatic exit is planned for early September.
GUIDING LIGHT
Coming to Springfield
Jay Hammer returns to Springfield as Fletcher Reade. He pops up in Springfield on September 17. Hammer was last seen on GL in 1999.
ONE LIFE TO LIVE
Coming Llanview
Frankie Faison and Tonye Patano
arrive in Llanview as Mr. and Mrs. Evans, parents of Destiny, Shaun, and Greg Evans. Their first airdate is September 10.
THE YOUNG AND THE RESTLESS
Coming to Genoa City
Jerry Douglas
returns as John Abbott's ghost on August 20. John's ghost will have a visit with his son, Jack (Peter Bergman).
Raya Meddine
returns as Sabrina Newman's ghost on August 20, as Ashley's (Eileen Davidson) visions of Sabrina continue.