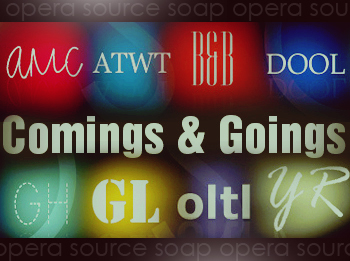 Daytime's coming and goings for the week of September 29, 2009.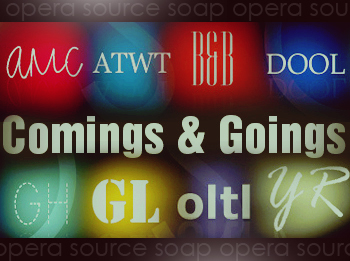 The revolving door of Daytime is forever swinging and in the most recent weeks has been no exception. Newcomers, welcomed returns, and cameo appearances grace daytime screen in the coming months. How will these comings and goings effect your favorite show? You will have to tune in to find out!
ALL MY CHILDREN
Coming to Pine Valley
Sofia Black D'Ella will be coming to Pine Valley as Bailey, baby Stuart's birth mother. She debuts on October 2.
Aryn Elaine Cole returns as the Kendall impersonator the first week of October.
AS THE WORLD TURNS
Coming to Oakdale
Alexandra Chando returns as Maddie Coleman, Henry's (Trent Dawson) sister. She returns to Oakdale on September 24.
Mark Collier returns to Oakdale as Mike Kasnoff, he will be a part of a November storyline. Mark returns to the show after a 2 year absence.
Paul Leydon returns as Simon Fraiser. He is back in November for an extended stay. Leydon left the role in 2006.
Peter Parros returns to the show as Ben Harris. Parros portrayed Ben Harris from 2003-2005.
DAYS OF OUR LIVES
Leaving Salem
Bryan Dattilo
(Lucas Horton) is leaving Salem, temporarily. Lucas takes an brief leave from Salem as he enters an alcohol treatment center to get his drinking under control. He departs the week of September 28th.
GENERAL HOSPITAL
Coming to Port Charles
David Gianopolous
will be portraying Tommy Soto. Tommy is one of Sonny's (Maurice Benard) employees who encounters Dominic (Dominic Zamprogna). He airs October 5 and 6.
Jamie Lea Willet
will portray Carly's (Laura Wright) teen daughter in a dream sequence on October 5.
ONE LIFE TO LIVE
Leaving Llanview
J. Tucker Smith
(George Evans) leaves Llanview after coming to a truce with his gay son Oliver (Scott Evans). George departs Llanview the week of September 28.
THE YOUNG AND THE RESTLESS
Coming to Genoa City
Melody Thomas Scott
returns as Nikki Newman. Paul (Doug Davidson) tracks down Nikki and tells her what has happened to Victor (Eric Braedon) the week of September 28.