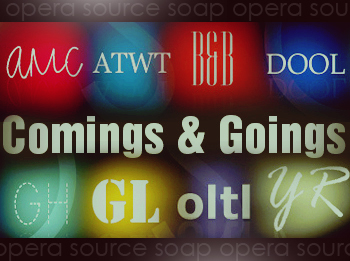 The coming and goings report for daytime — Week of October 12 Edition.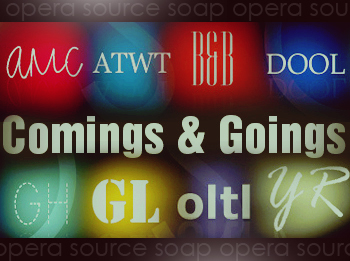 The revolving door of Daytime is forever swinging and in the most recent weeks has been no exception. Newcomers, welcomed returns, controversial exits and cameo appearances grace the daytime screen in the coming months. How will these comings and goings effect your favorite show? You will have to tune in to find out!
ALL MY CHILDREN
Coming to Pine Valley
In what should come as no surprise to fans, Rebecca Budig is returning to All My Children as Greenlee Lavery. For more on her return, check out the article Rebecca Budig Returns To 'All My Children. TVSource Magazine reported back in August that the actress was in talks to return to the show.
BethAnn Bonner will be coming to Pine Valley as a recurring character named, Kat. She will be interacting with Aiden (Aidan Turner) and Kendall (Alicia Minshew)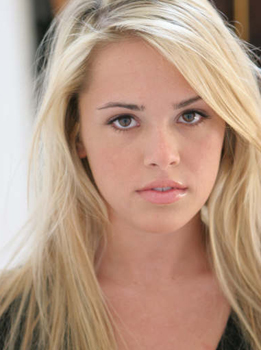 . Bonner previously portrayed Natasha on CBS' Guiding Light and Talia on ABC's One Life to Live. She debuts on AMC on November 6.
Newcomer Natalie Hall will take over the role of Colby Chandler from the departing Brianne Moncrief. Hall is a native if Vancouver, Canada and was nominated for an Ovation Award for the role of "Val" in the National Tour of Broadway's A Chorus Line. She's also appeared in the Broadway tour of Wicked and Broadway's Rising Stars at New York Town Hall. Past television credits include The Good Wife and Law & Order: SVU. The actress' first airdate is not available.
Leaving Pine Valley
Beth Ehlers will be exiting her role of Lt. Taylor Thompson, who she has portrayed since July 2008.
Thorsten Kaye will not be moving to Los Angeles with All My Children when they move west in January. He joined AMC in May 2004.
Ray McDonald will be retiring after 39 years on the soap. His character of Dr. Joe Martin was one of the original characters who debuted on January 5, 1970.
Brianne Moncrief will be leaving her role of Colby Chandler, a role she has portrayed since 2008. The role was previously portrayed by Ambyr Childers.
Staying in Pine Valley
Stephanie Gatshet (Madison North) will be making the move to LA and has been placed on contract.
Chrishell Stause (Amanda Martin) will also be making the move to LA but without a contract. She clarified on her personal twitter, "I am moving to LA, but I am not signing a new contract with AMC. Hopefully I will still film with AMC, but not as a contract player."
For the final list of cast members moving to Los Angeles with All My Children click here.
AS THE WORLD TURNS
Coming to Oakdale
Tamara Tunie returns as Jessica Griffin, the mother of Bonnie (Chauntee Schuler). She returns to Oakdale on October 15, her last appearance was in 2007.
As previously reported, Mark Collier (Mike Kasnoff), Paul Leyden (Simon Frasier), Lesli Kay (Molly McKinnon) and Peter Parros (Dr. Ben Harris) return this November.
THE BOLD AND THE BEAUTIFUL
Coming to Los Angeles
As previously reported, Sarah Brown will be arriving in LA in the control role of Sandy Sommers and will interact with Nick (Jack Wagner), Whip (Rick Hearst) and Bridget (Ashley Jones). She debuts on November 5. Brown previously portrayed Claudia Zacharra on ABC's General Hospital.
Big Brother 11 winner Jeff Schroder and contestant Jordan Lloyd will appear on October 27.
GENERAL HOSPITAL
Coming to Port Charles
In what was surely shocking casting news, popular film star James Franco will be joining the cast of GH in for a 2 month stint as a yet unnamed character. Franco first airs November 20.
Jonathan Jackson will be returning as Lucky Spencer, reprising his role on October 27 after a 10 year absence. The role of Lucky Spencer was portrayed by Greg Vaughan for the past 6 years.
Rachel Ames will reprise her role as Audrey in at least one upcoming episode. Audrey learns of Lucky & Elizabeth's intent to remarry.
Steven Connor and Joshua Kalender will appear as Link and Evan, interacting with Luke (Tony Geary) and Tracy (Jane Elliot) on October 13.
Jordi Caballero appears as nightclub owner Mo during Sonny (Maurice Benard) and Claudia's (Sarah Brown) trip to Puerto Rico on October 21 and October 22.
Leaving Port Charles
Greg Vaughan will be leaving the role of Lucky Spencer after a 6 year stint. Greg announced his departure from the show via his personal twitter, "As of today, with sad regrets, I will no longer be apart of what has been a big part of me and my families life. GH and TPTB have chosen to take a new direction. I THANK ALL of YOU, for the many memories we've shared and new ones to come!!! ALL MY LOVE, & BIG HUGS. I can't say how humbled I am by ALL the love and support that has been pouring out! I have been truly Blessed through out my career and will to continue to follow the path that GOD has been made for me! I only wish things had come to a better ending during my time at GH."
ONE LIFE TO LIVE
Coming to Llanview
Daniel Manche will be coming to Llanview as Tom, a friend of Matthew's (Eddie Alderson) this November. Manche previously portrayed J.J. Larabee on CBS' As The World Turns.
THE YOUNG AND THE RESTLESS
Leaving Genoa City
As previously reported, veteran Eric Braeden has been written out of storylines due to a breakdown in contract negotiations.