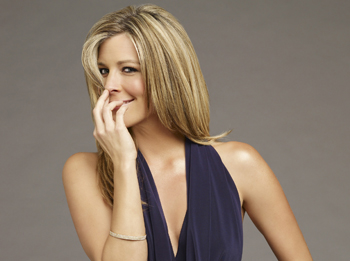 Carly and Jax lash out at each other over her defense of Sonny.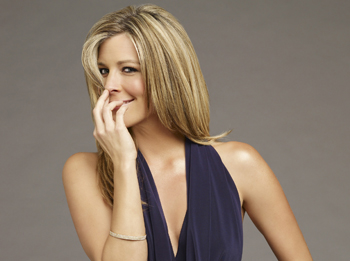 Pulse Poll Rankings for Wk. of 2/15/10 |
Don't forget to vote for your favorite actor, actress, and couple in the Pulse Poll beginning at 4PM |
WHOSE THE DADDY?
Elizabeth is happy to see Nikolas when he brings Cameron and Jake to see her. She tells him they won't be together as a family, even if the child she is carrying is his. Lucky is honest with Elizabeth when he tells her they have no future together. Elizabeth tells everyone she has scheduled a paternity test. Nikolas and Lucky try to convince her to wait to take the test, but she is adamant about taking it as planned. Helena watches over the procedure as Elizabeth prepares for the paternity test. Nikolas makes arrangements for the child Elizabeth is carrying and sets up a trust fund. Elizabeth is convince she will be able to raise her children without the father of her unborn baby. Elizabeth learns about the trust fund Nikolas has set up for the baby and she refuses to accept the money he has set aside. Nikolas learns of Elizabeth's refusal and confronts her.
MARRIAGE ON THE ROCKS
Carly barges in and disrupts the proceedings at Sonny's arraignment and claims Jax is deliberately trying to railroad Sonny. The judge hands down his ruling and doesn't revoke Sonny's bail, despite Carly's efforts. Jax warns Sonny not to ask Carly to lie for him on the witness stand. Carly and Jax clash over her wanting to keep Sonny out of prison at all costs and his wanting to see Sonny in prison. Carly closes the restaurant at the Metro Court to surprise Jax. Their passion leads to a night of love making, and afterward, Jax points out to Carly all they have and what they could lose. Jax and Carly come close to reconciling but soon end up in another argument over Sonny. Carly panics when she spots a photo of Franco among the proofs from Josslyn's christening and heads straight to Jason.
ELSEWHERE IN PORT CHARLES
Robin walks into Jake's to see Patrick and Lisa having a good time together. Jason confronts Johnny and Ethan after the shootout at Sonny's warehouse. Jason warns them not to make any more moves against Sonny or they will pay the price. Jason asks Luke to keep Ethan on a leash. Dante and Lulu are poised to make love for the first time but he ends up falling asleep. Lisa doesn't like the changes she sees in Patrick when Robin's around. Kiefer begs Kristina to give him another chance. Johnny enlists Ethan to help in his latest attempt to destroy Sonny's organization, which involves setting fire to Bernie's office to destroy all the business records stored there. Lucky responds to a police call and chases down a masked figure he discovers outside of Bernie's office. Dante assures Lucky that he feels no loyalty to Sonny regardless of the fact they're father and son. Olivia's bad timing puts an end to Dante and Lulu's plans for a romantic evening. Lucky learns it was Johnny he was chasing from Bernie's office and warns Jason to let him handle the situation. Lucky later approaches Johnny at Jake's wearing the same mask Johnny wore when he tried to break into the office. Ronnie, Dante, and Lucky have all be assigned to a new special task force to take down organized crime in Port Charles. Jason is still taunted by Franco. Lucky tries to stop Ethan from getting himself in deeper with Johnny's revenge against Sonny. Jason's message is clear when he warns Johnny about his actions against Sonny. Alexis and Diane muddle through their first day at work together.
CAN'T MISS
Carly disrupts Sonny's arraignment when she barges in claiming Jax is deliberately trying to railroad Sonny on Monday, March 1.
Lisa doesn't like the changes she sees in Patrick when Robin's around on Tuesday, March 2.
Johnny recruits Ethan to help in his latest attempt to cripple Sonny's organization on Wednesday, March 3.
Jax and Carly come close to reconciling but soon end up in another argument over Sonny on Thursday, March 4.
Sonny's temper flares when he finds Dante grilling Michael about the night of the murder on Friday, March 5.
---
© 2010 TVSource Magazine. All rights reserved
Please credit TVSource Magazine and provide a link back if you copy & paste our spoilers