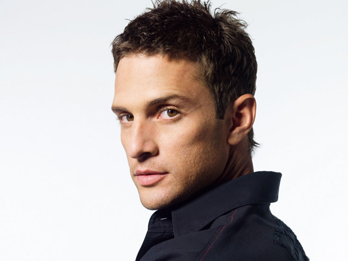 Cristian tries to let Jessica down easy when he tells her he's in love with Layla.
Pulse Poll Rankings for Wk. of 2/15/10 |
Don't forget to vote for your favorite actor, actress, and couple in the Pulse Poll beginning at 4PM |
SENT BACK TO HIGH SCHOOL
Jessica and Cristian discuss how her memory loss affects her perceptions. Most notably, she's still in love with him, as if the last 13 years never happened. Cris tries to let Jessica down easily, and explains he's in love with Layla, but Jessica reacts like a high school senior. Later, Jessica leaves the hospital and heads straight for Cris and Layla's apartment. Jessica feels cheated, and reacts badly when she discovers that Cris and Layla live together. Marty advises Brody to give Jessica space. Later Cristian is shocked to learn Jessica has enrolled in his class.
ALL IN THE NAME OF SIERRA
As Sierra Rose remains at the hospital, controversy stirs among all her surrogate parents. Rex and Gigi sit vigil together. Schuyler admits to Gigi that he stole the oxytocin but swears he never administered the dose. Gigi vows to keep Schuyler from her niece. Eli informs Rex and Gigi that they have a tough road ahead. Meanwhile, Kim persuades Clint to help her get custody of the baby by making her Mrs. Clint Buchanan. When Kim informs Kyle and Oliver of her plans, Kyle is outraged that Oliver has no objections to Kim's plans, and reveals the DNA results. Clint presents Kim with a prenuptial agreement.
ELSEWHERE IN LLANVIEW
Dorian learns that Melinda has died of a heart attack. Dorian's convinced Mitch is behind her tragedy. A well known Mitch devotee visits him in prison to inform him the "deed is done" and his instructions will be carried out. Someone spies on Jessica, Viki and Natalie. Gigi is touched when Rex gives her the original Sierra and Rose dolls she and Stacy used to play with. Todd sticks up for Danielle when she's accused of cheating in school. Charlie begs Viki for another chance. Langston and Ford have sex. Blair tries to expose Ford, in more ways than one. Hannah is surprised to learn Cole and Starr live together and have a baby. Kevin surprises Kelly with a marriage proposal. Adrianna advises Rex to work things out with Gigi. Natalie downplays her feelings for John.
CAN'T MISS
A longtime follower of Mitch, visits him in prison to let him know that Melinda died and promises Mitch they'll follow his latest instructions on Monday, March 1.
Langston confesses to Blair that she slept with Ford on Tuesday, March 2
Jessica's anguished over the fact she feels cheated out of all the experiences she was looking forward to when she was eighteen and becomes angry when she learns Cristian and Layla live together on Wednesday, March 3
Charlie makes an emotional appeal for Viki to give him another chance on Thursday, March 4
Kyle is incredulous that Fish seems okay with the idea of Kim being a mother to Sierra Rose and presents him with the results of the DNA test he had done on Friday, March 5
---
TVSource Magazine
is looking for weekly, bi-weekly and/or monthly "One Life to Live" columnists. Applicants should be efficient, reliable, intelligent and team players with strong writing skills. If you are interested in
becoming a columnist for "One Life to Live" or perhaps another soap or primetime show, please contact us at staffpositions@tvsourcemagazine.com. Feel free to pass this information on to any other "One Life to Live" fans you know.
---
© 2010 TVSource Magazine. All rights reserved
Please credit TVSource Magazine and provide a link back if you copy & paste our spoilers