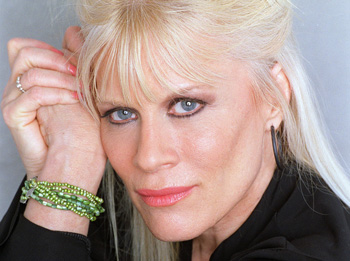 Roxy and Sierra Rose are in danger when Allison pays them a visit.
Pulse Poll Rankings for Wk. of 3/8/10 |
Don't forget to vote for your favorite actor, actress, and couple in the Pulse Poll beginning at 4PM |
THE SKY IS FALLING
Allison intends to kidnap Sierra Rose and begins to explain to a baffled Schuyler that there is a connection between Sierra Rose and Mitch, but Tea interrupts. Allison forces Schuyler to send Tea away then drugs him. Schuyler comes to, and is alarmed to discover that Sierra Rose and Allison are gone, and Allison has left a note demanding he wait for further instruction. Tea shows up looking for Schuyler, and upon learning of the kidnapping insists they call the police, but Schuyler refuses. Roxy stumbles across Allison who is hiding with Sierra Rose at the salon. Allison talks in riddles. When Natalie shows up at the salon, Roxy tries to protect her, but when Natalie figures out that the baby in Roxy's care is Sierra Rose, Allison pulls her gun. Bo informs John that Allison has escaped, and John goes on the hunt. He winds up at . . . the salon, where a nervous Natalie narrowly manages to conceal Allison and Roxy and convince John to leave. But then, Natalie discovers Allison, Roxy and Sierra Rose slipped away while she was occupied. Gigi shows up at Schuyler's to see the baby, but he sends her away. Allison instructs Schuyler to take over Kyle's shift at the prison infirmary. Kyle discovers Roxy and Allison in his room.
Cole lies to Starr about studying in Hannah's dorm room and somebody spots him there. Cole is surprised to learn that Ford is the guy who broke her heart. Starr and Cole are happily surprised to learn of Marty's pregnancy. The teens begin to prepare for the high school musical. Cristian and Jessica build sets together. Destiny and Danielle audition. Starr is suspicious about Langston and Ford, while Cole warns Markko that Ford is a player. Cole and Markko overhear Hannah accusing Ford of using Langston. Langston admits to Starr that she slept with Ford.
ELSEWHERE IN LLANVIEW
Brody challenges Jessica to a game of horse to win a date with her. Brody asks Cristian to look out for Jessica. Blair and Eli grow more familiar. Natalie wishes things were back to normal between her and Jessica. Marty cautions Jessica that she can't control other people's feelings when Jessica voices her frustration over her unrequited love for Cristian. Todd offers to hire someone to investigate Kelly's mysterious phone calls. The mysterious caller informs Kelly that Melinda was murdered, sending her and Todd to the prison to see Mitch, who appears to have a heart attack while they're questioning him.
CAN'T MISS
The pizza delivery girl sees Cole in Hannah's room and later innocently mentions it to Starr on Monday, March 22.
Natalie wishes things were back to normal between her and Jessica on Tuesday, March 23
Kim stuns Gigi and Rex with the news that she married Clint and is seeking custody of Sierra Rose on Wednesday, March 24
Natalie's a bundle of nerves when John shows up at the salon but doesn't let on that Allison is there threatening to kill her and Roxy on Thursday, March 25
Schuyler takes over Kyle's shift in the infirmary at Statesville per Allison's instructions on Friday, March 26
---
TVSource Magazine
is looking for weekly, bi-weekly and/or monthly "One Life to Live" columnists. Applicants should be efficient, reliable, intelligent and team players with strong writing skills. If you are interested in
becoming a columnist for "One Life to Live" or perhaps another soap or primetime show, please contact us at staffpositions@tvsourcemagazine.com. Feel free to pass this information on to any other "One Life to Live" fans you know.
---
© 2010 TVSource Magazine. All rights reserved
Please credit TVSource Magazine and provide a link back if you copy & paste our spoilers