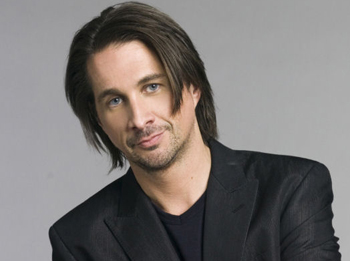 John admits to an angry Marty that Natalie told him she was pregnant.
Pulse Poll Rankings for Wk. of 3/1/10 |
Don't forget to vote for your favorite actor, actress, and couple in the Pulse Poll beginning at 4PM |
WHICH FATHER KNOWS BEST
Alison reveals that Schuyler is Mitch's son and therefore, Sierra Rose is also Mitch's progeny. Alison is forced to make a hasty retreat before she can explain the details of Schuyler's birth. Roxy, on the other hand, slips up and tells Gigi that she had a son who died at birth. Greg tells Oliver that Schuyler is an unsuitable father. Later in the week, Schuyler prepares for a home visit from Children's Services, unaware that Alison has switched places with the social worker. Meanwhile, John admits to an angry Marty that Natalie told him she was pregnant. Marty explains that she needed time to process her own feelings before she could tell John, and she's prepared to raise their child on her own. John surprises her when he says he wants to be a father. Marty later tells Natalie how happy John is about the turn of events. Bo congratulates John, but senses that John's thoughts aren't totally on Marty and child. John, Bo, Brody and Fish celebrate St. Patty's day at Rodi's and are soon joined by Natalie, Nora, Layla and Roxy.
Jessica continues the painful process of catching up with the past she no longer remembers. First, Todd has to convince Jessica that he's really the same guy since his face has changed from the one she remembers. Then he reveals that Blair and Cris were lovers and Jessica is forced to accept that Cris moved on. But Todd insists that if Jessica still wants Cris she should fight for him. Later Jessica finds Cris and Blair in each other's arms. Jessica's childish response forces Cris to explain some very hard truths. Jessica runs from the room in tears with Cris in pursuit. When Cris finally catches up with Jessica at the school gym, they take a walk down memory lane, but later Jessica is devastated when Cris chooses Layla over her.
ELSEWHERE IN LLANVIEW
Langston cuts class for a little afternoon delight with Ford. Starr discovers Langston's musical is drawn from her relationship with Cole. Cole thinks Hannah may have deliberately overdosed. Todd is gleeful when Kelly and Blair have a catfight. Todd forces Kelly to work for him. Wanting to forget Todd, Blair jumps into bed with Eli but leaves in a huff when he says he wants their relationship to be more than just sex. Gigi proposes to Rex.
CAN'T MISS
John wants to raise a baby on Monday, March 15.
Jessica gets reacquainted with Uncle Todd on Tuesday, March 16
Cris reveals some painful truths to Jessica and Marty tells Natalie how happy John is on Wednesday, March 17
John, Bo, Brody, Fish celebrate St. Patty's day with Natalie, Nora, Layla and Roxy. Cris and Jessica recall their first kiss on Thursday, March 18
After disposing of the social worker, Alison shows up at Schuyler's door on Friday, March 19
---
TVSource Magazine
is looking for weekly, bi-weekly and/or monthly "One Life to Live" columnists. Applicants should be efficient, reliable, intelligent and team players with strong writing skills. If you are interested in
becoming a columnist for "One Life to Live" or perhaps another soap or primetime show, please contact us at staffpositions@tvsourcemagazine.com. Feel free to pass this information on to any other "One Life to Live" fans you know.
---
© 2010 TVSource Magazine. All rights reserved
Please credit TVSource Magazine and provide a link back if you copy & paste our spoilers