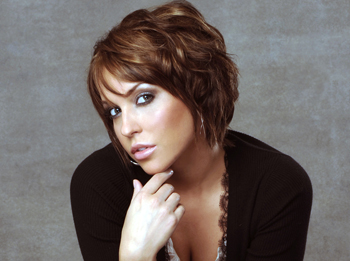 Gigi advises Eli to move forward with the custody suit against Schuyler.
Pulse Poll Rankings for Wk. of 2/22/10 |
Don't forget to vote for your favorite actor, actress, and couple in the Pulse Poll beginning at 4PM |
THREE KISSES AND SOME BABIES
As John and Natalie succumb to another kiss, Roxy discovers that Marty is pregnant, and advises her to tell John. Marty shares her insecurities about John and Natalie with Roxy. Marty overhears John and Fish discuss parenthood and John's thoughts on the subject leave Marty anxious about his readiness to be a father. Natalie accidentally discovers Marty's pregnancy test, but doesn't tell Marty that she knows. Assuming that Marty told him that he's going to be a father, Natalie spills the beans to a shocked John when she congratulates him.
Gigi advises Eli to move forward with the custody suit against Schuyler. Fish is furious that Kyle went behind his back to determine Sierra Rose's true paternity, but when he learns of the custody battle brewing, he returns and stops Kyle from burning the DNA results. Fish explains that he wants to process the possibility that he's a father before he sees the evidence and Kyle agrees to put the DNA results in a safe place until Fish is ready. Meanwhile, unaware that the just has granted Gigi temporary custody of Sierra Rose, Schuyler and Rachel ready their apartment for the new arrival. Schuyler is heartbroken when he has to hand Sierra Rose over to Gigi, but Tea arrives in the nick of time, with a court order overturning the judge's decision. Rex promises Gigi they will have Sierra Rose in the end. After overcoming her reservations, Kim returns the signed prenuptial agreement to Clint and they proceed to be married so that Kim can also pursue custody of Sierra Rose.
ELSEWHERE IN LLANVIEW
Cristian is uncomfortable having Jessica in his class and informs Viki and Clint of her latest antics. Viki and Clint turn to Marty for advice. Layla and Jessica show their claws at the diner. While Brody's box of mementos leave Jessica unaffected, she thinks the idea is a good way to reach Cristian. Clint informs Nora and Bo of his plans to marry Kim. Viki asks Tea to handle her divorce, but after talking to Dorian, she tells Charlie she's putting those plans on hold until she returns from London. Markko discovers Langston and Ford, but Langston covers. Greg and Rachel argue over Schuyler. Cole discovers Hannah unconscious and is suspicious that she deliberately took an overdose. Later Hannah admits she was despondent over a guy who slept with her and then dumped her. Todd catches Danielle skipping school. Todd offers Kelly a job. While visiting Mitch, Allison makes a cryptic comment about Sierra Rose.
CAN'T MISS
John and Natalie end up kissing again. Marty admits to Roxy she thinks John might still have feelings for Natalie on Monday, March 8.
Jessica and Layla have a scratchy encounter at the Buenos Dias on Tuesday, March 9
Bo and Clint reach a slight thaw when Clint informs him and Nora of his impending wedding on Wednesday, March 10
Kelly and Todd put their animosity aside for the time being. Todd surprises Kelly with a legitimate job offer on Thursday, March 11
Thinking Marty's already told him she's pregnant, Natalie congratulates John on his impending fatherhood on Friday, March 12
---
TVSource Magazine
is looking for weekly, bi-weekly and/or monthly "One Life to Live" columnists. Applicants should be efficient, reliable, intelligent and team players with strong writing skills. If you are interested in
becoming a columnist for "One Life to Live" or perhaps another soap or primetime show, please contact us at staffpositions@tvsourcemagazine.com. Feel free to pass this information on to any other "One Life to Live" fans you know.
---
© 2010 TVSource Magazine. All rights reserved
Please credit TVSource Magazine and provide a link back if you copy & paste our spoilers