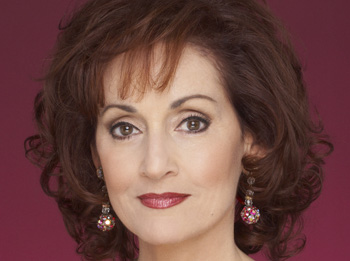 Dorian questions Kelly about a mystery man who shows up in Llanview.
Pulse Poll Rankings for Wk. of 4/19/10 |
Don't forget to vote for your favorite actor, actress, and couple in the Pulse Poll beginning at 4PM |
BRICK WALLS AND IRON BARS
Kelly and Blair have a day of reckoning as Kelly apologizes again for causing Blair's miscarriage years ago. They come together as a family. Just as Blair seems to be moving beyond her twisted ties with Todd, his latest woes reel her right back into his orbit. Blair advises Tea to ditch Todd and focus on being the best mother she can be. Later, in Greg's office, Blair's curiosity overcomes her better judgment. Blair can't resist a peek when she spies Tea's medical file on Greg's desk and she learns of the terrible news Greg earlier shared with Tea. Blair gets busted with the file by Eli, and she swears him to secrecy. Out of genuine concern, Blair asks Tea to come to La Boulaie. Blair manages to overcome Tea's skepticism, when she offers to help and Tea's walls tumble down. Blair wonders if Tea will tell Todd the truth. After an emotional visit with Todd, Tea is a wreck. Blair breaks down in Eli's arms over Tea's suffering. Todd's problems continue to mount as Starr can't shake Hannah's story that she saw Todd push Marty. John has doubts about Hannah's credibility. Marty confronts Todd. Danielle suggests that she was ready to build a relationship with her father before Todd came under suspicion for this latest crime. Although Cole has both Nora and Eli in his corner, the judge's decision sends him back to a cell. Starr arrives just in time to profess her love as Cole is led away. Meanwhile, Reed's arrival in Llanview seems to have thrown Kelly off balance. She dodges Dorian's queries about the mystery man. Kelly and Reed reminisce about their time in London, and Reed kisses Kelly.
ELSEWHERE IN LLANVIEW
Brody is hopeful about his prom date with Jessica. Rex gets a lead about the necklace. Gigi and Rex explain to Shane that Rex doesn't know who is parents are, but that Roxy will always be Shane's grandmother. Gigi surprises Rex by telling him she will go with him to New Mexico to follow-up on his lead. Once there, they discover the craftsmen who made the necklace. Darren convinces Destiny to go to prom with him. Dani agrees to be Matthew's date after Nate plans to go with Whitney. Natalie and Kevin lean on one another.
CAN'T MISS
Blair and Kelly reach a rapprochement, realizing they need to come together again as family on Monday, May 3.
Brody hopes he'll be able to make progress with Jessica when they go to the prom together on Tuesday, May 4
Tea's privately upset by Danielle's attitude towards Todd as she knows Danielle might soon need her father more than she can imagine on Wednesday, May 5
Cole believes Starr chose Todd over him but she eventually makes it to the courtroom on Thursday, May 6
Reed won't give up on Kelly, who ultimately agrees to go on a dinner date with him on Friday, May 7
---
TVSource Magazine
is looking for weekly, bi-weekly and/or monthly "One Life to Live" columnists. Applicants should be efficient, reliable, intelligent and team players with strong writing skills. If you are interested in
becoming a columnist for "One Life to Live" or perhaps another soap or primetime show, please contact us at staffpositions@tvsourcemagazine.com. Feel free to pass this information on to any other "One Life to Live" fans you know.
---
© 2010 TVSource Magazine. All rights reserved
Please credit TVSource Magazine and provide a link back if you copy & paste our spoilers